We're thrilled to welcome Caryl Hart into #TheRealm today to talk about her new book How to Track a Sabre-Toothed Tiger, which is illustrated by Ed Eaves!
The best thing about working with illustrator Ed Eaves on the Albie books, is that he has an amazing ability to draw exactly what's inside my head – only better! Ed and I seem to have a kind of telepathy when it comes to creating these stories, so I'm always delighted, but never surprised when I see his illustrations for the first time!
How to Track a Sabre Toothed Tiger is the 11th book in this series of exciting adventure stories for  young children and it seems that Albie has become a bit of a household name. I often get messages on social media from parents and children eagerly awaiting the next adventure, and many parents telling me they read Albie stories every night. It's a huge honour to have contributed to family storytime and I'm thrilled that the books have entertained so many children. There are even some children named after our main character!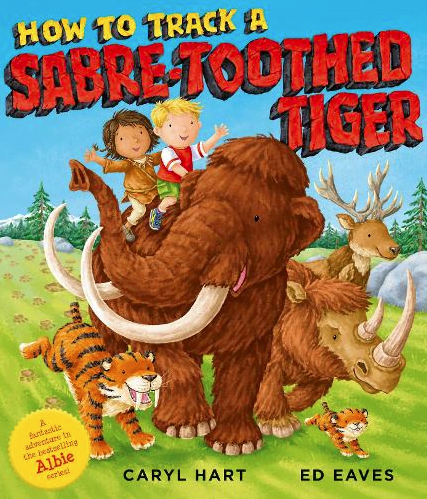 So which is my favourite illustration in this story? Well, it has to be the pen-ultimate spread, which is a scene inside the home of some prehistoric cave dwellers. It shows Neanderthal – or stone age – people sewing hides, carving a bear and playing a bone flute, as well as Albie and his new friend Thorn painting their adventure on the cave wall.  I was lucky enough to once visit a cave in France that had some genuine prehistoric cave art and this spread reminds me of that special time. The caves were closed to the public, but my husband was studying archaeology and somehow persuaded the local guardian to let us have a look! 
I also love how relaxed and happy Albie is with his new friend and how excited he is to be creating his own story in the wall of her cave! 
By the way, archaeologists really have discovered a flute made from bone and one clever person has even made a reconstruction that you can really play a tune on! If you'd like to find out more, you can watch his video here:
https://www.openculture.com/2015/02/hear-the-worlds-oldest-instrument-the-neanderthal-flute.html
How to Track a Sabre Toothed Tiger is published by Simon and Schuster and is OUT NOW. Whoop!!