Eva Eland is a Dutch author-illustrator living in Cambridge, UK. Her debut picture book When Sadness Comes to Call,  published by Andersen Press came out January 2019 and is translated in several languages.
Without giving too much away, can you tell us a bit more about When Sadness Comes to Call?
Sadness is personified as a character and appears on the doorstep of a child, unexpectedly. It shows various aspects of how it may make you feel, and how you might approach it and deal with it and that perhaps, once you recognize it, acknowledge it and welcome it, it might not be as scary and overwhelming of a feeling as you initially thought it was.
How important is it for children's books to deal with difficult themes, such as sadness?
Difficult themes such as sadness are an inevitable part of life, so learning to understand them early on can help to find ways to deal with them as well, in a healthy way. It can also show children that it is normal to experience all these different emotions – and as they learn to recognize them, deal with them and take care of them, they can also learn that those emotions don't have to define them or their actions.
What made you want to write a book about feeling sad?
I started with the idea of wanting to make a comforting book – and quickly realised I needed to have a better understanding of all those difficult emotions first, if I were to do that. I started drawing sadness, anger and fear as characters, and quickly found myself 'stuck' with sadness. As a picture book maker it sometimes feels like ideas choose you, rather than the other way around. Sadness just lingered around until it made it's way in a book!
In inspired moments, I did feel very strongly about getting the message out, that it's OK to feel sad. On the one hand for all those children that struggle with feelings of sadness and might not have found ways to talk about it with anyone. I was also reminded of myself as a child as I often felt sad without an apparent reason and didn't really know just what to do with this feeling. On top of that, I often felt guilty for feeling this way, or lonely, leaving me feeling even worse than the initial feeling of sadness.
However, I might have an even stronger feeling about us adults learning how to cope with sadness and other difficult feelings, so we can stop repressing them all the time, and start taking responsibility for them. I do believe that if we don't attend to our emotions, they can eventually grow into bigger problems that might find their way out in hurtful or unhelpful ways – which can be even more difficult to control.
And after all, children learn by example and they are very perceptive. Our own attitude towards our own feelings, can change how children might regard their own feelings.
The book takes an interesting perspective on sadness, which I like. The idea that it doesn't just go away, but that it's something we can learn to live with and almost embrace and welcome it. Can feeling sad be a positive emotion? How? Why?
There are different answers I could give to this. One would be pointing out that there are a lot of different ways of feeling sad, and some of them have a bittersweet taste, like feeling nostalgic about a lost time for example, or memories of someone dear to you that is not around anymore.
I think that once emotions are stripped down from all the personal stories and internal judgement, hey aren't bad, or good, they just are. Like fear has a very clear function, that of making us aware of potential danger, and protecting us, anger might be propelling us into action, to protect those we love for example or values we care about, and to also make us realise what's important to us.
Sadness might be a bit more difficult to see from a more positive angle, but it can be an invitation for us to slow down and process something difficult that might have happened – or just have us take a break after an intense period. It might indicate that we haven't been taking care of ourselves, or have not allowed ourselves to do something which is important for us or to do something that brings us joy.
All emotions, those we experience as positive and those that we'd rather not feel – can help us understand ourselves, our needs and our values better. They can help us navigate through life and help make important decisions. They can deepen our understanding of others and fuel empathy and connection – they can also make us feel present and alive. This may feel uncomfortable at times, be 'inconvenient' or leave us feeling vulnerable – but how else will we find love and compassion, if we can not allow ourselves to be fully present?
Why do you think so many children and young adults seem to be struggling with their mental health and well-being at the moment?
I don't really know how different it is from years ago – but we do seem to live in a challenging time. Life can become very fragmented and feel pressured, with all the information and possibilities we have. With internet and social media it's easy to get distracted and start comparing yourself, and loose a deeper sense of connection to yourself and others.
I don't really have enough insight or information to make any statements, but sometimes I do wonder if more people seem to be struggling with mental health because there is more awareness of and openness about it – or if we really do live in more challenging times?
How would you describe your style of artwork? Are there any artists and illustrators who have particularly inspired you?
My artwork is usually pared-back, using a limited colour palette.
I'm inspired by many artists and illustrators, like Tove Jansson, Beatrice Alemagna, Shaun Tan, Yohee Yoon, Bruno Munari, Jon Klassen… I could go on forever with this list to be honest, there are so many incredibly talented people out there, who's work I admire for different reasons.
I love this image! I especially like the placement of the child and 'sadness' enveloping and encroaching upon them. Could you tell us a little bit more about this illustration – your choices in layout, framing, body language, colour and positioning – and what you were trying to achieve?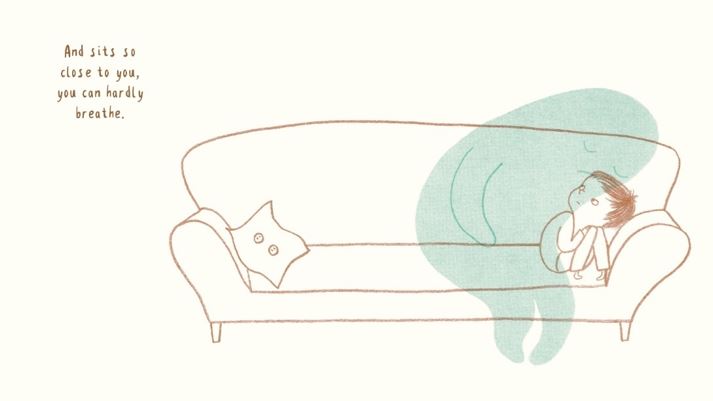 I love that you chose this image as I can use it as an excuse to talk about how the process of making this book has been. I started working on it during my studies at the MA Children's Book Illustration. I had discussed the text and design choices with many tutors and classmates (and even psychologists), before I started working with Andersen Press on it. This particular spread, I discussed with one of my favourite tutors, Pam Smy.  Before that tutorial, I had a more static sequence, with text on one page and the images on the other page. I wanted to change the sequence and have illustrations slowly build up (if you pay attention you will see the illustrations get increasingly bigger from the first illustration to the 5th, and so does the figure of Sadness, even though it's very subtle). I used to have the child and Sadness sitting in a big chair, on one page. Pam Smy gave me the idea of making it a large sofa instead and having Sadness and the child sitting at the very end, so it's even more clearly sitting 'too close', almost like when you sit in an nearly empty bus, and a stranger decides to sit next to you. Somehow, we all know this is inappropriate and we usually automatically would sit in the middle of two people in public spaces. Sadness clearly is overstepping it's boundaries here, as an uninvited guest.
I chose to have Sadness overlap the child's face, so it also becomes a shadow at the same time. Throughout the book I often have Sadness mimic the body language of the child, to make the link between them stronger and the suggestion that actually, we are still talking about a feeling we have inside of us, instead of a personification of sadness.
Here the child looks up, a little bit annoyed perhaps, but the body language is also clearly showing it's feeling vulnerable – showing the mix of feelings one might have about feeling sad – and how it can feel so big and overwhelming sometimes, that it can almost feel like you are disappearing inside of it.
 Has technology changed the way you illustrate your work? If so, how?
If it can help me optimise my workflow, I like to use it but otherwise I tend to be drawn to older technologies or analogue work. For this book I used risography, which is a printmaking technique using a machine which looks a lot like a photocopier, yet produces prints that have similar qualities to screen printing and litography. I love it – but as the colour choices are limited, we (the art director Beccy Garrill, editor Libby Hamilton and me) chose to change those for the book and have those layers printed in Pantone colours we carefully selected.
What advice would you give to teachers about how to develop reading for pleasure in their classrooms and schools?
I used to read a lot with children in the nursery I worked a few years ago. I noticed that no matter which book I read, it's my own enthusiasm that will change how the children respond to the book. So one advice would be is to also choose books you love yourself and to share this enthusiasm with the children. It's contagious.
How would you envisage teachers using your book in their classrooms? Do any activities or ideas spring to mind?
I just did a workshop around my book in two schools. I invited the children to draw sadness as a character or something visible that you could see. How would it look?  This led to interesting discussions when they talked about why they drew it a certain way and it gave the opportunity to touch upon many different aspects of sadness.
After that, I read the book and asked them afterwards to find a part of the book they connected with, or that had a resemblance to their own drawing. Again, we had very interesting discussions, and together we elaborated more on some themes in the book and their drawings, like how people might hide their sadness, loneliness, talking about your feelings with someone else or how you can help a friend that is feeling sad.
After a break, we discussed ways we could deal with our sadness and take care of it, and things that make us feel better. After which the children made their own little 'manual for sadness'. Some children wrote another version of the book, with their own sadness character they drew before, some made a manual, with all kinds of things that might make you happy. Others wrote, stories, poems and songs. It was very inspiring to see the diversity and creativity in the responses from the children. A lot of their metaphors were very philosophical and also touched upon things that aren't mentioned in the book, like the connection with other emotions like anger, or how your feelings can change your perception of the world around you.
I think it could be interesting to let the children take their 'manuals' home and finish it over a period of time, and suggest that they can also ask people around them for inspiration on how you can deal with sadness. It could lead to more open discussions about sadness and it can become a project they can revisit, to remind themselves of some of the things that can help them and that it's OK to feel sad sometimes.
I think every page in the book could be used as a starting point for discussion – and there are a lot of activities that can be done, I imagine.
For an older age group, the focus could be more on creative writing, storytelling or illustration for example. You could write a story from the perspective of the Sadness character for example, which could be used to discuss empathy, compassion and mental health.
Are there any other books you can recommend that deal with a similar subject?
Some picture books:
Michael Rosen's Sad Book, illustrated by Quentin Blake. About grief and depression.
The Red Tree by Shaun Tan, but also a lot of his other work as it explores themes of loneliness, feeling lost and grief for example.
Another beautiful example of a 'sad' picture book is Duck, Death and Tulip by Wolf Erlbruch. This is a very tender book about death. Death walks around in a pyjama like outfit, and is depicted as a gentle and caring character.
Sweep by Louise Greig and illustrated by Julia Sarda, about how sometimes we are swept away by our emotions and it can be difficult to control them.
There are quite a lot of picture books out there at the moment, about emotions.
For older children:
A Monster Calls by Patrick Ness, illustrated by Jim Kay. It's shows that feelings can be very complex and intertwined with each other and it's a very immersive, cathartic read.
This slideshow requires JavaScript.
What advice would you give to any budding young illustrators?
Draw as much as you can and observe the people and things around you. They can inform your drawings but will also help you understand your audience and give you ideas.
Follow your own enthusiasm and passion, and don't try to emulate other artists. Inspiration can be found anywhere, you can also look at other art forms to learn more about illustration, like cinema.
Don't be afraid to get it wrong and make mistakes. They are part of the creative process and will help you grow as an artist.
Get out of your comfort zone. Maybe by trying new materials, or see which part of your work you could develop further. Again, it's not about getting it right straight away. You are learning and by observing, experimenting and drawing a lot, you'll learn most.
Take care of yourself and make sure you have breaks, eat well, do exercise and see people in between. Deadlines are a great way to help you focus and get things done – but if we keep chasing deadline after deadline without taking care of our needs, we'll pay the price eventually. You are not a machine.
And last but not least, have fun!
Finally, can you describe When Sadness Comes to Call in three words?
Gentle, reassuring and pared-back