Today we welcome Harry Woodgate, author and illustrator of the award-winning Grandad's Camper, into The Reading Realm to talk to Ian Eagleton about their new children's picture book TIMID!
Without giving too much away, can you tell us about your new book TIMID?
Timid is about a non-binary kid called Timmy who absolutely loves singing, dancing and performing – so long as they don't have an audience. Whenever they try to perform in front of anyone else, their giant inner lion appears out of nowhere and ROARs all their confidence away. Timmy longs to take part in the upcoming school play, but that pesky lion seems determined to keep them out of the spotlight. So, with the help of their new friend Nia, they set out to overcome their shyness and finally find the courage to take to the stage.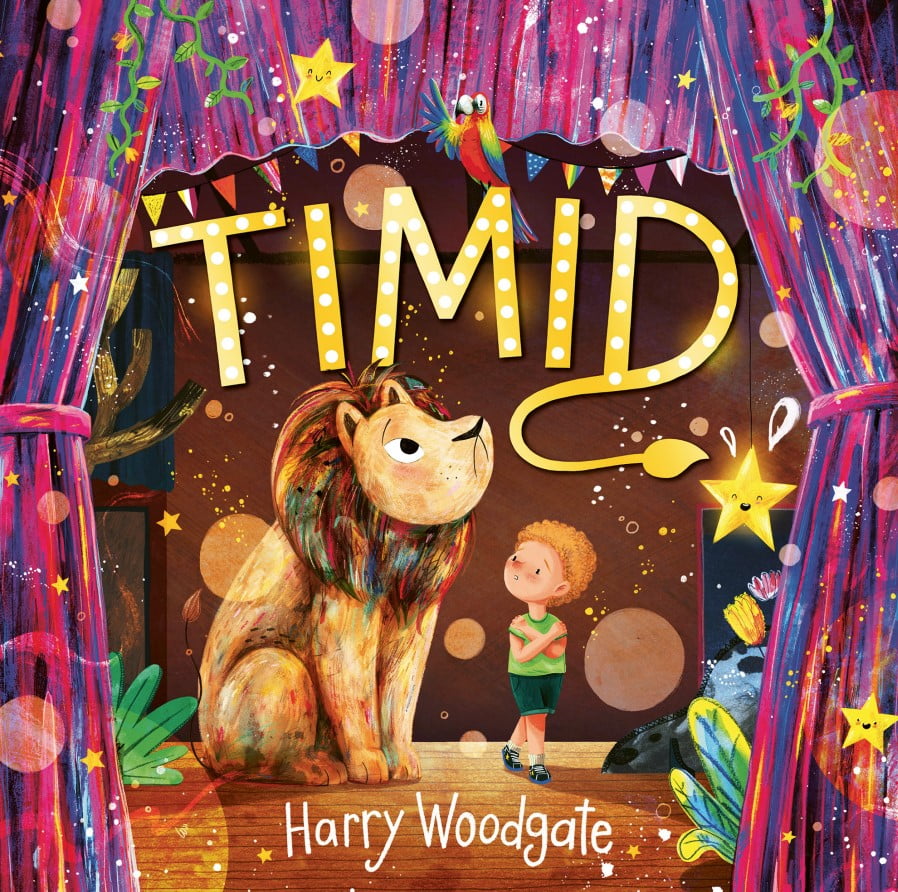 How is TIMID similar to your award-winning book GRANDAD'S CAMPER? How is it different?
For lack of a better term, they're both relatively 'quiet' books, in that they're built around gently exploring characters' emotions and relationships rather than a fast-paced plot. Sometimes there's this view in children's literature that in order to maintain kids' interest, we need to pack every book full of adventure and high stakes, but in actual fact there are lots of children who are more reserved, who will really resonate with stories that are a bit more reflective.
Another similarity is that both Timid and Grandad's Camper feature LGBTQ+ main characters in a way that is mostly incidental to the story. This is something we've both spoken about before, and I do feel that it's important to ensure we include a diverse range of characters in stories that aren't always about identity, so that kids never grow up with the sense that any one thing defines all of who they are.
In terms of differences, whilst they both centre around relationships, it was quite different writing Timmy and Nia's friendship compared to the intergenerational granddaughter-grandfather relationship in Grandad's Camper. This time around, it was lovely seeing Timmy and Nia figure out solutions together, and I enjoyed seeing how their personalities complemented each other even in the illustrations.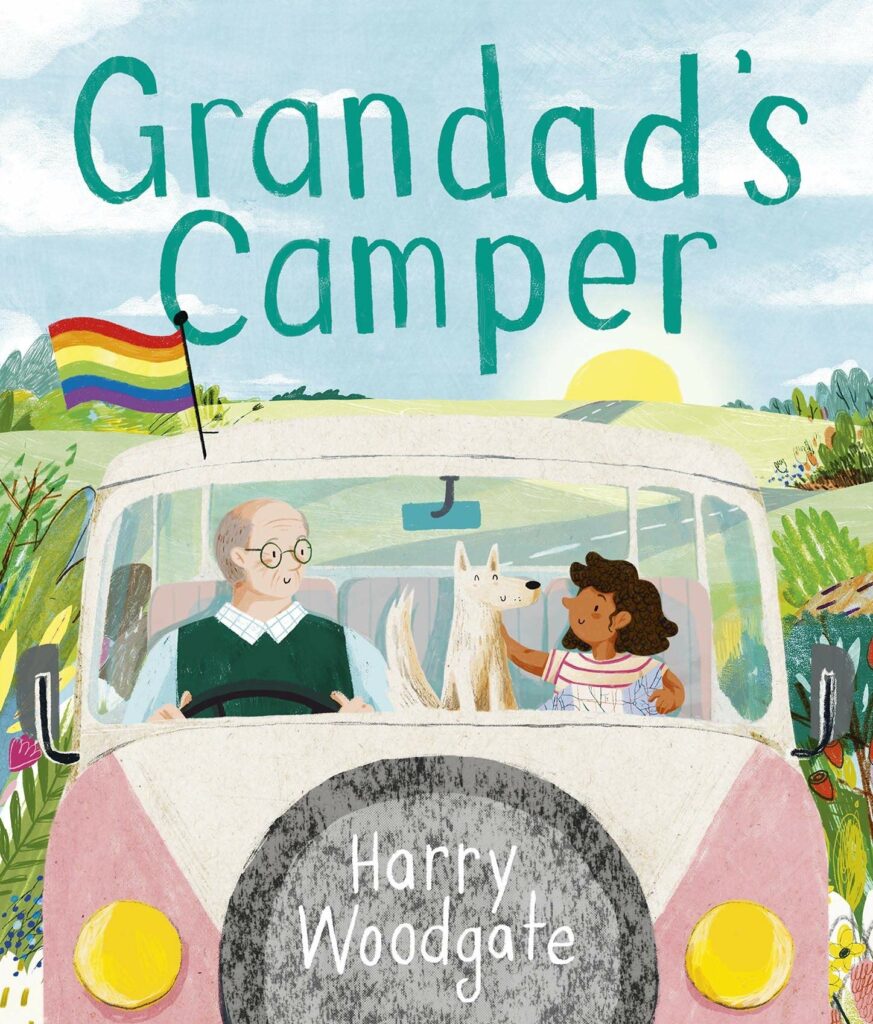 Can you share with us your favourite illustration from the book and tell us why it's your favourite?
Oh, this is difficult! I really like the page where we see Timmy and Nia's costumes for the first time. It feels joyful and exciting, and it was great fun to design the sparkly outfits. Another favourite is the page where Timmy, Nia and Lion are sitting on the bench looking up at all the macaws. It's full of colour and I like how the different animals introduce us to aspects of Timmy and Nia's personalities.
Overall, though, I think what I'm most proud of in Timid are the character designs. It's something I always used to struggle with compared to drawing landscapes and objects, so I really worked hard to figure out how to depict different expressions and poses in a dynamic way.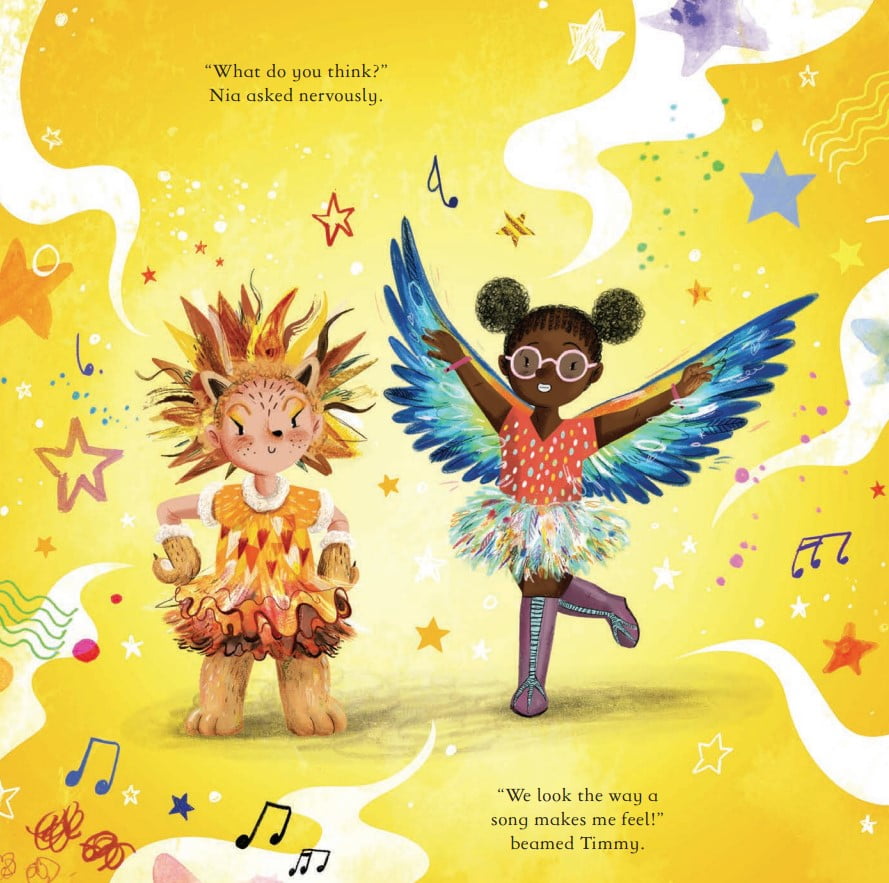 I'd love to see some early sketches and rough illustrations of some of the characters in the book, especially the lion! How did the characters develop and change as you worked on it?
The inspiration for the book grew out of an illustration of a lion that I did in early 2020, just before the very first lockdown. For the next few weeks, I couldn't stop mulling over how I could turn it into a picture book idea. I did lots of sketches, working out how to strike the perfect balance between making the lion look cute and just a little bit scary, and then the character of Timmy popped into my head to join them.
In some early versions of the book, I also included Timmy's mum, as well as a visiting drag queen who ultimately did nothing substantial for the plot so was booted out by draft two. Timmy stayed much the same throughout the drafting process, although it took me a little while to get them looking like the right age bracket – it's amazing how very subtle changes in proportions can change our interpretation of a character's age.
Nia came next, and out of all the characters she changed the least. I find it fascinating how this sometimes happens. She simply stepped on to the page, dungarees, stripy top, space buns and all, whereas Timmy and the lion both took several attempts to get just right!
The illustrations are GORGEOUS! How did you achieve such dazzling, colourful artwork? It seems to shimmer and shine! What materials and techniques did you use?
Thank you so much! In terms of materials and techniques, I made the illustrations for Timid by scanning and photographing lots of hand-drawn and painted textures and collaging these together with digital painting in Photoshop, which is similar to how I illustrated most of my other books.
Something else I thought about quite a lot was colour. I like it when books by the same author feel like they complement each other but also have their own distinct visual identities, so whereas with Grandad's Camper I used a calming palette of mostly pastel blues, pinks, greens, and creams, I created the colour scheme for Timid from warm yellows, deep purples and bright pinks, which brought to mind stage curtains and school parquet floors, as well as quietly referencing the non-binary pride flag.
What's the process like for writing and illustrating a book for you? Do the words come first? Or the artwork? Or both?
With Grandad's Camper, I sketched a few ideas to begin with, but soon started on the first draft of the text. Timid developed in much the same way: I drew that picture of the lion as well as some more character sketches, but after a certain point I found I needed to write the story down so that I could shape the final layouts and illustrations around it.
Something I found interesting about writing Timid was that, whilst the word count for Grandad's Camper didn't need a huge amount of tweaking, the first draft of Timid was far too long and needed a lot of chopping down! The nice thing when you're writing and illustrating is that when that sort of thing happens, you can look at the two things side by side and work out which parts of the story can be told through the pictures and which parts need to stay in the text, but it was definitely a bit of a puzzle this time.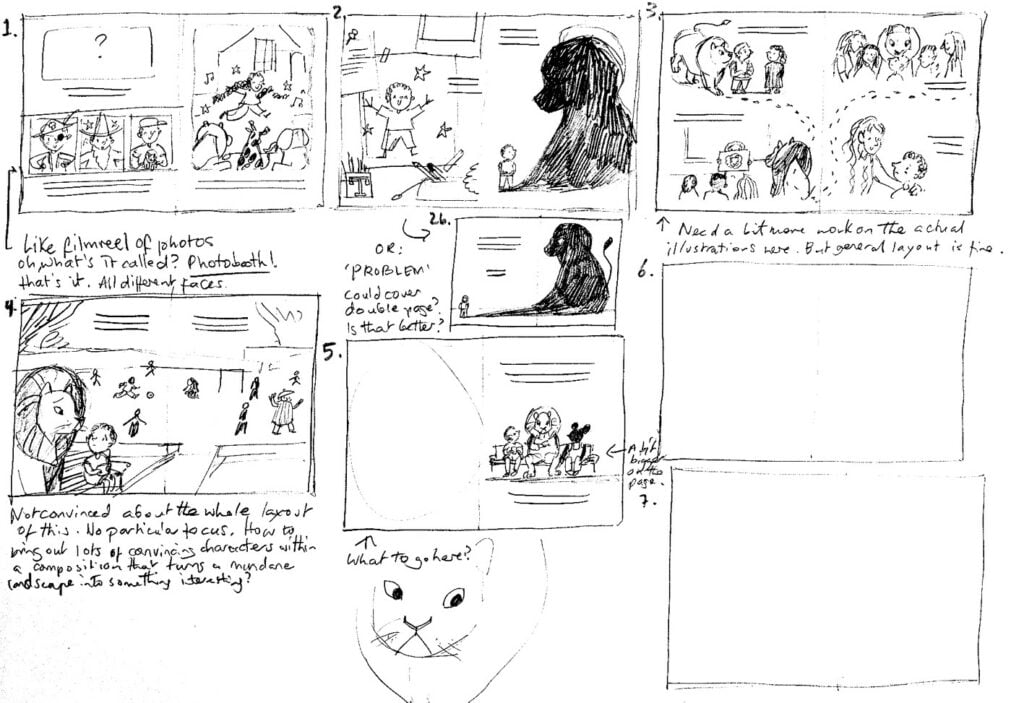 Nia is such a charming and delightful friend to Timmy! Who inspired her?
Oh gosh, I'm not completely sure! There are several people from different times in my life who are similar to Nia in one way or another, whether that is through their directness, enthusiasm, their accepting nature… but I don't think there's any one person who inspired her. I think she is also quite inspired by Timmy, in that whilst they're both shy, this comes across in very different ways. Timmy avoids speaking to new people entirely and withdraws into themselves, whereas Nia is quite open and perhaps uses her gregariousness to distract from the ways she feels self-conscious.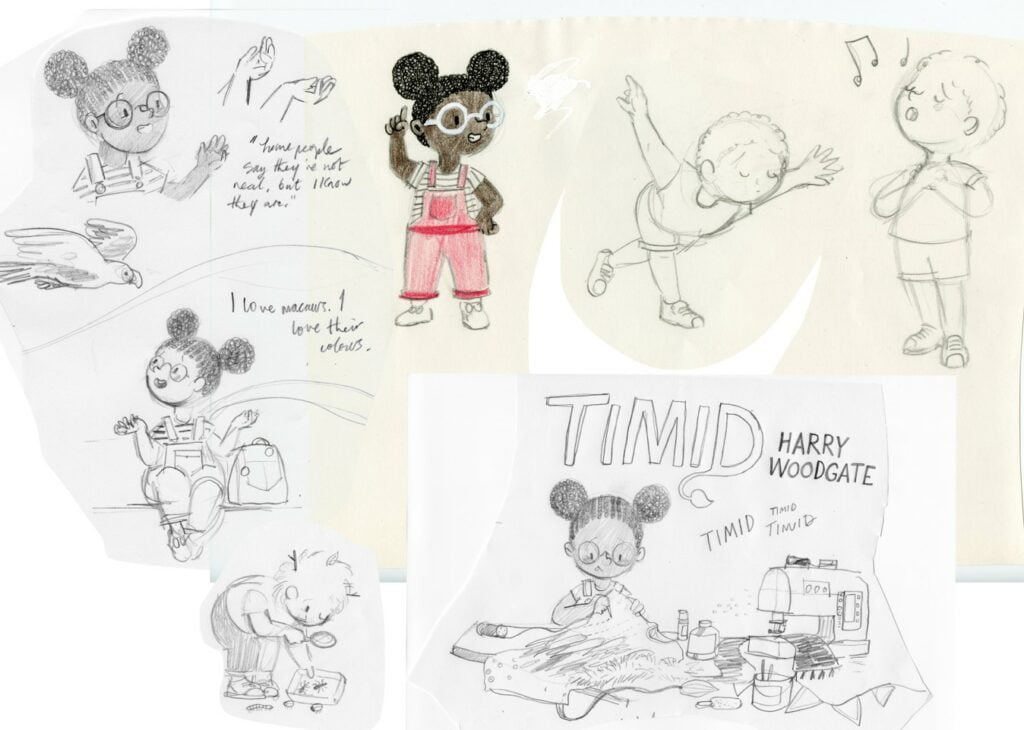 Can you recommend any other picture books you've enjoyed recently? 
The Circles in the Sky, by Karl James Mountford, out now with Walker Books, is a gentle, poetic meditation on loss and change, and it's gorgeously illustrated and produced.
I was lucky enough to receive an ARC of Out of the Blue, by Robert Tregoning and Stef Murphy, which publishes early next year with Bloomsbury, and I really enjoyed it. Robert's writing is warm-hearted and hopeful, and Stef's illustrations, which I also loved in The Fire Fox, written by Alexandra Page, are just as wonderful here.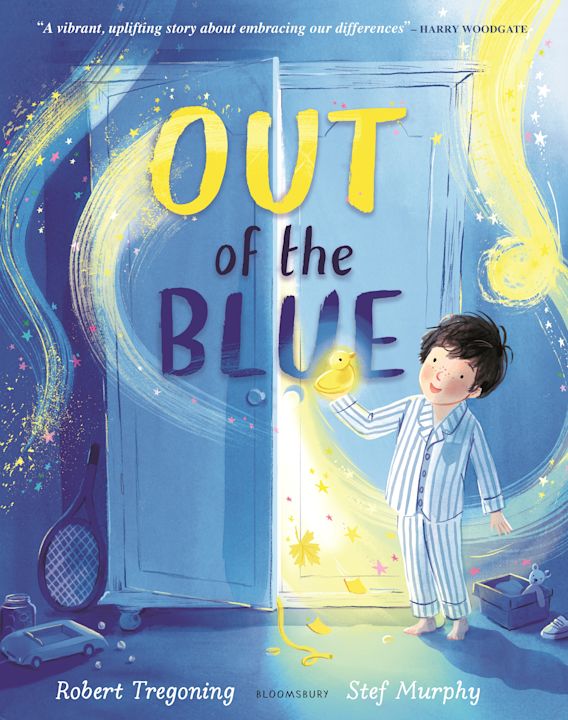 Can you tell us about anything else you're working on next and what we can expect from you in the future?
Next year is shaping up to be quite a busy one! In January, Shine Like The Stars publishes with Andersen Press. It's written by Anna Wilson and is a gorgeous book all about the ways we are all connected to the natural world.
June will bring the publication of Grandad's Pride, in which Grandad and Milly return to stage the most fantastic Pride parade in Grandad's seaside town. I'm super proud of this book and can't wait to introduce readers to lots of new characters who help the duo organise their celebrations.
I have a few more books which will be publishing throughout 2023 which I can't talk about just yet, and of course I have lots of plans and drafts in various stages of completion for all sorts of other things, which hopefully one day will make their way out into the world…!
Finally, can you describe TIMID in three words? 
Hopeful… celebratory… ROAAAAR?