Before the pandemic struck, I got the chance to interview Dean Atta about one of my favourite books The Black Flamingo, which is a moving, lyrical, up-lifting and hopeful novel told in verse…
Without giving too much away, can you tell us about your book The Black Flamingo?
The Black Flamingo is a coming of age story about a mixed race boy called Michael figuring out his identity in terms of race and sexuality and discovering a new side to himself in his drag person The Black Flamingo.
How is The Black Flamingo similar to your first debut collection of poems (I Am Nobody's Nigger)? How is it different?
The two books are similar in that they are poetry and they look at some of the same themes of race and sexuality. They are different because The Black Flamingo is a book of fiction and the poems tell a story and are written to be read sequentially.
Is The Black Flamingo entirely autobiographical, are certain parts based on your life or is it completely fictional?
There are some emotional truths from my own life, which I have written into the story but I'd say the book is completely fictional, despite some similarities The Black Flamingo is Michael's story.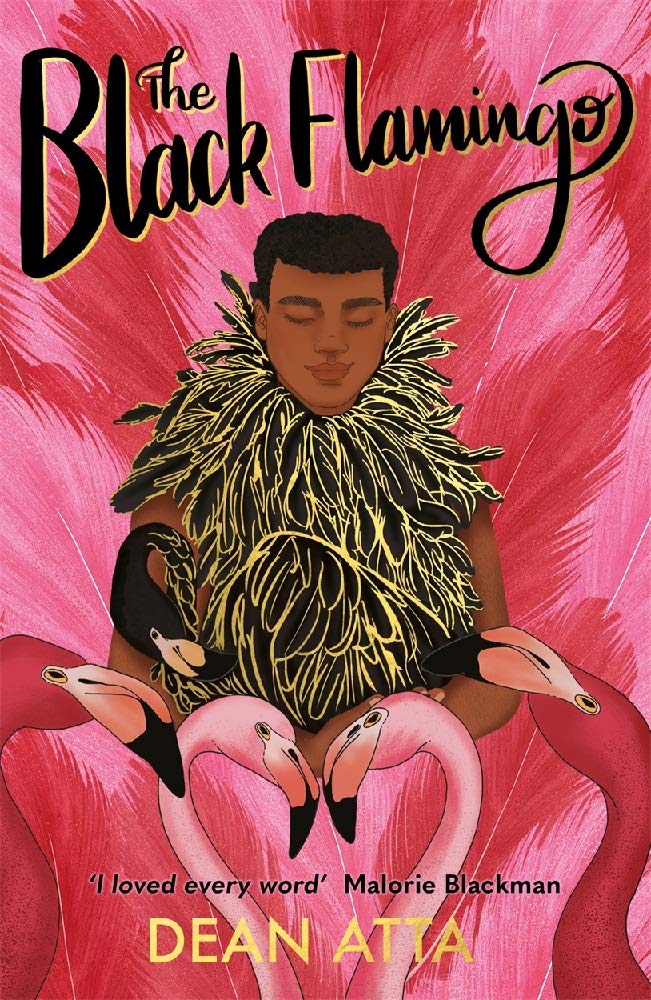 I loved reading about Michael's disappointment at receiving a Teenage Mutant Ninja Turtles toy instead of a Barbie – I loved She-Ra as a kid and I can certainly relate to that! Organisations like 'Let Toys Be Toys' are currently trying to tackle the idea gender stereotypes in childhood. Do you think the idea that certain toys are for boys and certain toys are for girls is a problem?
It is a problem and it's insidious. I wanted to buy my three-year-old niece a durable camera and the one with the best reviews only came in two colours: blue and pink. It was hard to decide whether to buy her the blue one and make a statement but I personally preferred the pink so that's what I bought her. You're always second guessing if you're enforcing all these unnecessary gender stereotypes.
Michael does eventually get a Barbie in The Black Flamingo but you see how his mum is weary of letting him take the doll out of the house. The problem isn't in the home it's society at large and Michael's mum wants to protect her son from any ridicule.
Why did you decide to write The Black Flamingo in verse?
I wrote the book in verse because I love poetry and I've spent years getting good at writing it. I love to read prose but poetry is my first language, so it just made sense for me to write verse novel. It was a great challenge because usually when I write a poem a whole story is resolved within a single poem, but this needed to be a page-turner that doesn't ask you to pause like an individual poem does but encourages you to keep reading.
What strikes me throughout The Black Flamingo is the theme of redemption. You talk about the ability we have to be 'the prince and princess' and our own 'wicked witch and fairy godmother' in our personal fairy tales. Do you feel your role as a drag artist has influenced or been influenced by this idea?
I think we wear different costumes and take on different roles throughout life. We dress for work but might have comfy clothes for home, we dress to impress on a special occasion but it's only special if it's different to our everyday wear. In some scenarios we see ourselves as the hero, and at other times we have been made to feel like the villain. What I am trying to show is that under all these costumes and roles there is someone constant who is just playing dress up.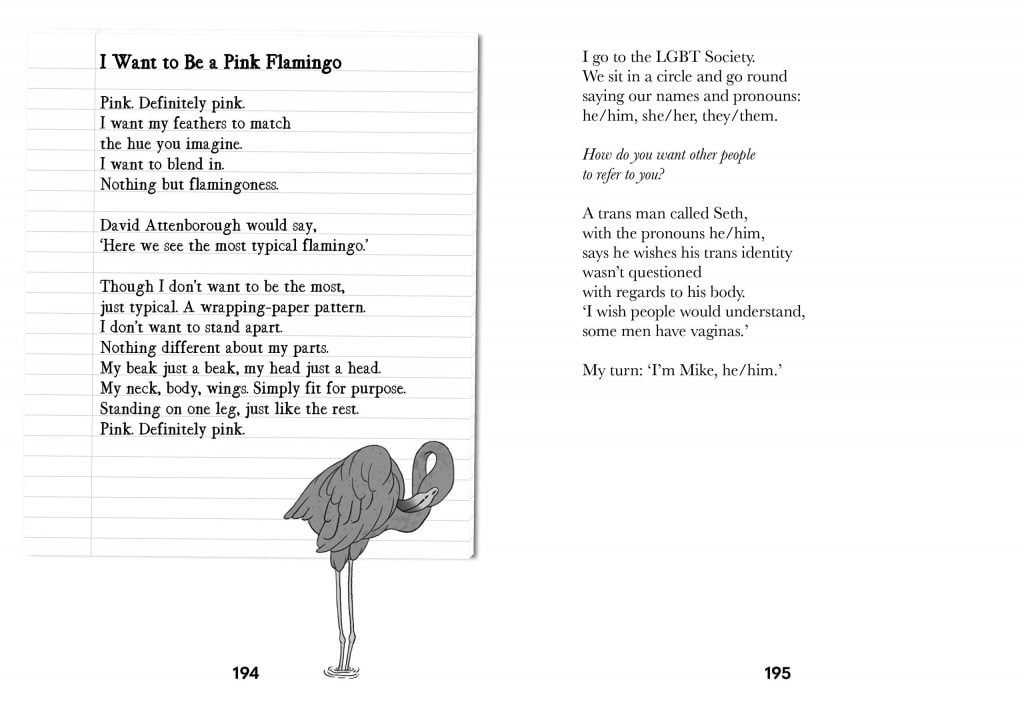 There's obviously been a lot in the media about LGBT education in primary schools. What are your thoughts about this and the subsequent protests that have arisen?
It's important to show different types of families to children. Some children are raised by a single parent, some are raised by same-gender parents, some are raised by grandparents or other relatives or foster carers. All should be respected and celebrated.
I love the front cover and illustrations by Anshika Khullar! What do you feel they bring to Michael's story? Can you remember how you felt when you saw the front cover of your book for the first time?
When I saw the final front cover I felt absolutely elated – I knew people would pick this book up simply because of how beautiful the cover is. We know that people really do judge a book by its cover. I feel confident that the words within are as gorgeous as Anshika's cover art, and the illustrations mirror the story's most poignant and magic moments.
As a teacher, I often struggled to 'teach' poetry to children – especially the writing of it. What advice would you give to teachers who want to develop their teaching of poetry in the classroom?
Teach poems about things your students are interested in. Try to source poems about everything from football to flamingos, science to sibling rivalry, poems from around the world and translated from other languages. Invite them to bring in a poem that they like or to ask an adult in their life to recommend a great poem; make it relevant, make it interactive and make it intergenerational.
I know you do lots of shows and performances. What can we expect to see and hear in one of your shows?
Expect myself and the other performers to be unapologetic in our blackness and queerness. Expect a night that centres black queer people and our experiences. Expect to feel safe and welcome but sometimes challenged and uncomfortable.