We are thrilled to welcome illustrator Piet Grobler into The Reading Realm today to talk about his fabulously inventive and gorgeous new book, which is written by Dianne Hofmeyr and published by Tiny Owl, PARIS CAT…
Without giving too much away, can you tell us about your new book, which is written by Dianne Hofmeyr, Paris Cat?
It is the story of an inventive, sassy cat who grew up in the back alleys of Paris in the time when both Edith Piaf and Josephine Baker performed in the city. Like the two iconic singers, Cat also rises above her circumstances, invents and reinvents herself and uses her talent and enterprise to make others happy with her talent.
Can you remember how you felt when you saw the picture book manuscript for the first time?
I just loved it: The character makes you smile and it is an encouraging and uplifting story. And, above all, Dianne's text is funny and quirky.
Cat is a wonderful character – mischievous, confident and determined. I wondered if she is based on anyone you know or any pets you've had or have?
Not consciously, I think, but I have had some truly inspirational pets in my life. Montserrat was a nimble and slender cat like Cat, but perhaps Cat's personality was more inspired by that of my late dog Alice, who was unbelievably cheeky, brave and cocky!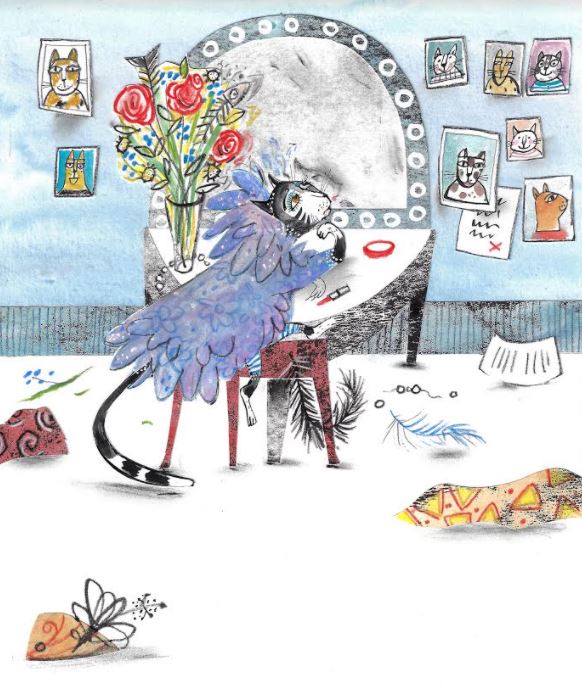 The book features some guest appearances from Edith Piaf and Josephine Baker. What research did you carry out about them?
I read up quite a bit on them (thanks, dear Google!) , especially the time that their stays in Pairs overlapped. I studied the period in terms of architecture, design and fashion in order to get the setting as well as the historical characters right. Josephine Baker's pet cheetah, in particular, was a phenomenal animal. Both women were intriguing, brave and of course ridiculously talented.
The illustrations are wonderful – they're full of energy. How did you achieve this?
I think if one focuses on the scenes that can be animated (movement, dance, running, parading of the cat- fashions) one manages to create a feel of energy. Scenes that depict mainly dialogue, lead to more static illustrations too. Dianne's text was, therefore, a dream to work with. It is written in a quirky, energetic tone and there is a lot of reference to movement. Also, the portrayal of Cat's energetic character, was of course lead by Dianne's suggestion of Cat's personality – quirky, energetic, cheeky.
I wondered how long the illustrations took for you to create – they look so fresh and 'in the moment' but Cat's outfits are full of beautiful patterns and textures.
I did try to come up with fabric patterns that might have existed in the Art Deco period in Paris. The period also inspired me to create the visual language in general. There is actual visual reference to existing Edith Piaf and Josephine Baker posters and the cover was conceptualised to mimic an Art Deco Parisian poster. Ladies' fashion was big at the time … so it was great fun to create all these costumes. How long it took? I cannot remember…three months, I think? The planning and conceptualising of the illustrations often takes as long or longer than the execution! But I chose a laborious technique: collaging mono-printed colour surfaces and combining those with drawing and painting, took ages. But it paid off, I think. The intention was to create a feel of the limited colour and print techniques used in Art Deco posters… or at least make a nod towards it.
Are there any other children's books coming out this year that you've read and enjoyed or are looking forward to reading?
Eu Vou Ser (I Will Be), a new book by the Portuguese illustrator Andre Letria.
Finally, can you describe Paris Cat in three words?
Funny, cheeky, brave …or sassy, innovative, fearless….or …