Today, we have children's author Laura Gallagher joining us in the Reading Realm to talk about her debut picture book Robo-Babies!
Without giving too much away, can you tell us about your new book Robo-Babies?
In a nutshell, Robo-Babies is about the many journeys parents take to becoming a
family. The book explores IVF, surrogacy, adoption, donor conception and premature
babies and is essentially a talking point for those parents out there who want to start
a conversation about infertility and show their children how loved they are as a result of their journeys. Children need diverse books so that they can relate personally but also they need them in order to understand the many differences around them and that there is no 'normal'.
Your son was conceived through IVF and this journey has clearly inspired the book. Have you shown Robo-Babies to him son yet? What was his reaction?
My son is the reason I wrote this book. While he is currently a little too young to
really understand it (he has just turned two!), the illustrations are so beautiful that the emotions on the robots' faces tell a story in themselves.
I read that you're also a teacher of singing and music. Do you think there are any similarities between singing, music and writing a picture book?
Both require a certain empathy and connection with people. I always want to be able
to relate to my pupils, and their worries; writing a story is all about connection with
others in a similar situation. Singing, music and writing are all very creative but
require you to bare all and be vulnerable. Something that is scary but needed.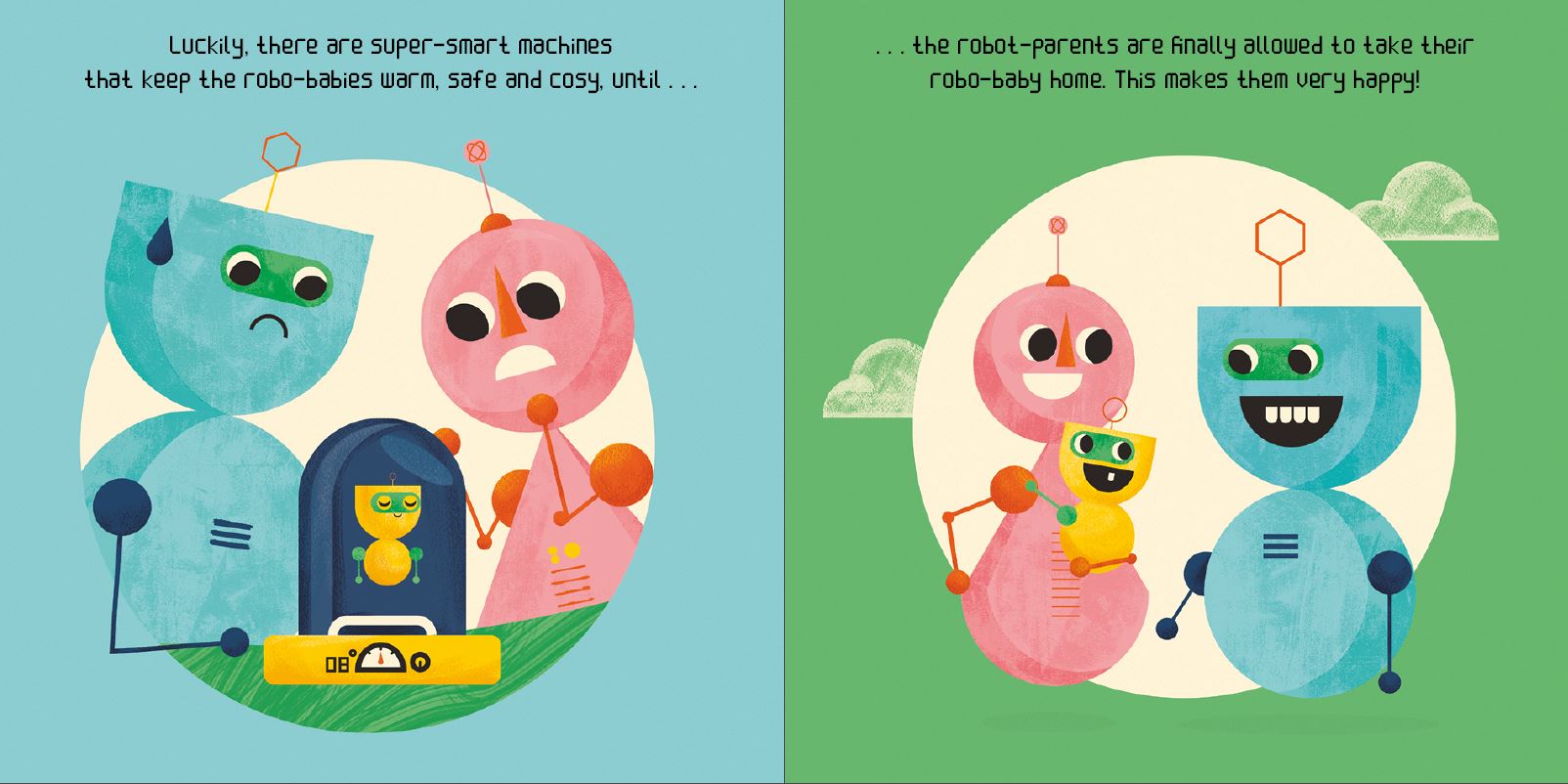 How did you feel when you saw Nicci Martin's cool, retro illustrations for the
first time? What do you feel they add to the book?

I absolutely adored them! I feel they will really appeal to children of all ages because
they have many layers to them. On first glance, or as a younger reader, they would
probably notice robots, stars, planets, but as they mature, will understand the details, the emotions, the expressions and the differences that affect each robot's journey. Nicci has really made her own world for us to enter into.
What was it like working with your publisher Owlet Press? Can you tell us
about the process?

Owlet Press are giving children the books and stories they absolutely need
to be reading. Diversity, differences, resilience, change are all themes that Owlet
Press and their stories explore. They make children feel special. I contacted Sam and
expressed my idea and desire for a book that I couldn't find. We worked together on
what the book should include and I am so happy with the finished result. I can't wait
for children to read it!
Are there any other children's books which you feel celebrate the reality of
diverse families really well?
A personal favourite of mine is 'Little Dream' by Celeste Rankin, which tells a tale of a couple's determination as they wait to build their family. It is such a gorgeous book.
'Love Makes a Family' by Sophie Beer celebrates all types of families, it is simple and
really beautiful. 'And Tango Makes Three' is also a lovely story about two penguins building a family, aimed at younger children. I love penguins so this was a favourite too!
This slideshow requires JavaScript.
What do you hope readers will take away from Robo-Babies?
My hope is that by reading books like this, we will be raising open minded, accepting
children who understand that life isn't always easy and sometimes to get our happily
ever after it may take a longer journey than expected. It would be wonderful to open
up the taboo conversations about infertility and non-traditional ways to build a family, to parents of all kinds to celebrate these journeys with their children.
Finally, can you describe Robo-Babies in three words?
Hopeful-Magical-Educational!