Richard Ruddick, who runs the excellent THEY DON'T COUNT AS READING blog,  talks to Aron Nels Steinke about the Mr Wolf's Class comics and being a primary school teacher!

Firstly, we wondered if you could tell us a bit about Mr. Wolf and what inspired these fantastic comics?
When I became a teacher I started drawing a comic strip based on all the funny, strange, and emotional things that happened to me during the course of the year. It was simply called Mr. Wolf. The kids that I met year after year inspired the work.
I had already spent several years making autobiographical comics at that point and it made sense for me to start focusing solely on telling stories about my life as a teacher. After I had about two-hundred Mr. Wolf strips, I felt it was time for me to focus my efforts on a fictional middle-grade graphic novel series for kids. The series would become Mr. Wolf's Class.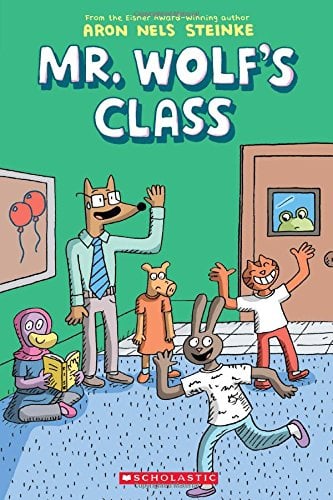 Do you find the balance of teaching and creating comics more difficult now that Mr Wolf's Class has become so popular?  
I've been teaching and publishing books in tandem for many years. My first published graphic novel, Neptune, came out the same year I started graduate school for teaching. It has been hard but I've somehow been able to strike a balance between teaching, parenting, and cartooning.
What made you create comics that were suitable for children rather than a mature/older audience? 
I rediscovered comics through the underground, such as those published by Fantagraphics and Drawn and Quarterly, etc. And because of that, those were the kind of comics I initially started emulating and self-publishing. But my roots and why I wanted to make narrative storytelling in the first place was due in part to the film Princess Mononoke by Hayao Miyazaki.
That film and others by Miyazaki and Studio Ghibli such as My Neighbor Totoro, Nausicaä of the Valley of the Wind, and Kiki's Delivery Service are really what got me excited about visual storytelling; I switched my majors during my first round of college from science to art because of the profound impact those films had on me. Later, I would fall in love with the work by the late Maurice Sendak. Where the Wild Things Are, Outside Over There, and In The Night Kitchen are works that initially made me want to make books instead of animation.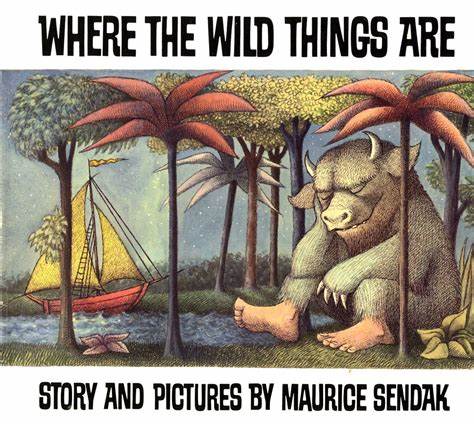 Is anyone responsible for nurturing your love of comics and talent at creating them or was it all born from your own desire and self-motivation?              
My family encouraged me. My parents bought me an animation disc and drawing board for my nineteenth birthday so I could pursue my dream of making animation, and my brother was also a big influence through his own artistic journey. He was an expressive figure painter at the time. He would paint these giant acrylic paintings in the kitchen and it was really fun to watch him work the pallette knife and we'd talk about form and he'd share everything he knew with me about mark making and the painters that he liked such as Oskar Kokoschka, Otto Dix, Leon Golub, and Richard Diebenkorn.
I push myself and hold myself to a high standard. I somehow have always had a drive to do creative work. I do really well with hyper-focused and obsessive work. I don't know where it comes from but it's just the way I function. I try to relax but I only feel happy when I'm working on something.
The first project I can remember that I poured myself into was a bridge made out of toothpicks in seventh grade for a class project. I spent hours after school using white glue, toothpicks, and a hairdryer to make trusses and reinforce this structure so it would was strong and aesthetically pleasing. I loved that thing. Fortunately, nobody ever stamped that love for making art out of me.
I'm sure I've had plenty of unearned advantages in life that have helped as well. My parents sent me to animation school in Canada at the Vancouver Film School when I told them I could do nothing else. One of my favorite teachers there was Marv Newland (of Bambi Meets Godzilla fame). He was incredibly encouraging and would show us these fantastic obscure short films. I had several teachers like that. Rose Bond of the Pacific Northwest College of Art was another and I took several continuing education classes with her. She exposed me to the works of Yuri Norstein and Norman McLaren.
Back at the Vancouver Film School in Canada, I met a lot of people there that were excited by the same thing I was. And then after film school I met my comics mentors Dylan Williams and Greg Means. Dylan had a publishing house called Sparkplug Books and Greg Means was putting out the Papercutter anthology series. Those two guys really grew a community of cartoonists around them and fostered new talent through their publishing efforts. Dylan passed away several years ago, which was a huge blow to so many. Selfishly, I wish I could have shown him Mr. Wolf's Class.
This slideshow requires JavaScript.
Do you have any plans for a different type of comic with different characters in the future or is your focus purely on the world of Mr. Wolf for the foreseeable future?        
As long as Mr. Wolf's Class is connecting with kids, I'll keep making them. I don't think I'll ever get bored making them. Every book, to me, is like one episode in a television series and I'm just hoping to write a full season.
I have other projects in mind, too, I just need the time to explore them. Not every project idea makes it to publication but every idea requires time to see it through. I'm planning to hire a colorist for the fourth Mr. Wolf's Class book specifically to free up more time for myself to pursue other projects.
How did you find the change of process from writing one-off comic strips to creating continuous narratives?                          
I had always wanted to make a book series for kids and after making the Mr. Wolf comic strips I had this whole world and characters that could drive the project. The fun thing about making the comic strips was that I could post them online and then get immediate feedback. There was no money in the endeavor and I was only reaching an audience of maybe a few hundred people. Now I'm making these much larger and much more fictional books for kids and I'm reaching thousands of kids all across the country and beyond. I regularly receive feedback from parents and teachers who tell me how Mr. Wolf's Class was the first book their child or student read all by themselves. That is the best compliment I could ever receive!
What inspired you to base your stories around animal characters instead of humans?
I wanted to continue to make autobio comics but I didn't want to draw myself as a human anymore, so I started drawing myself as a wolf to make myself more relatable and more of an avatar for other teachers to see themselves in. I also wanted to protect the identities of my students. I kept that method alive as I transitioned to the fictional Mr. Wolf's Class books for those reasons.
I also just like drawing animal characters. I grew up on Disney anthropomorphism. Disney's Robin Hood is one of my favorite animated films. DuckTales and TaleSpin were both shows I probably watched too much as a kid after school. I would even tape them on our VCR. My anthropomorphs are a little different from Disney's, though; there are two rules I have for my style of anthropomorphism that sets mine apart from others: my characters don't have tails (because they are meant to represent humans) and I always draw five fingers on my characters' hands (because they are humans).
How would you say your comics champion and promote diversity, inclusion, and acceptance?
I present kids in my books just as they show up in my classroom. In Mr. Wolf's Class #2: Mystery Club, we find out that Randy's parents are a same-sex couple. It's not presented as an issue because it's an accepted part of my life and my classroom and it's something you might even miss if you don't pay attention. If I can present things that other people might see as issues as accepted reality (which it is), then I've done my part in normalizing it for kids.
I'm not a fan of meanness in media and I'm also very tired of the bully stereotype. In real life, of course, there are bullies, but I'm not going to have a "bully" just to build conflict within the story's narrative. Kids in my world as a teacher are sometimes mean to each other, but it's usually more complicated than just one person being an aggressor. But honestly, most of the students in the classes I've taught have been pretty sweet to one another. That's the reality I want to reflect.
Are there any other comics or graphic novels you can recommend for primary school aged children?
This slideshow requires JavaScript.
Akissi by Marguerite Abouet and Mathieu Sapin. The first big collection of the Akissi stories was the first graphic novel that my first-grade son read all the way through by himself. The book is based on the author's childhood growing up in the Ivory Coast in the 1970s.
I absolutely loved Be Prepared by Vera Brosgol, Chad Sell's Cardboard Kingdom was really great, too. I just read Jerry Craft's New Kid, which is proving to be a big a hit with upper elementary and middle school students.
Graphix has so many great books for kids. I really love the Sunny series by Jennifer L. Holm and Matthew Holm. Of course, I recommend all of Raina Telgemeier's books as well as The Baby-Sitters Club series, Amulet by Kazu Kibuishi, and Dav Pilkey's Dog Man series.
I'm a big fan of Wild Weather by MK Reed and Jonathan Hill, which is part of the Science Comics series by First Second Books. It's a nonfiction graphic novel told through a disgruntled meteorologist's rant to the handsome-yet-brainless news anchors he works with to explain the science behind climate change. I loved it and learned a lot from the book.
I believe that people who love the comics form aren't picky about the genre as long as the comics are done well.
Finally, can you describe the Mr. Wolf comics in three words?
Fun, joyful, motivating.