Jennifer Killick lives in London and is the author of the popular Alex Sparrow series. Here she talks about her new book, Mo, Lottie and the Junkers…
Without giving too much away, what inspired you to write this story?
I love to write stories inspired by the things and people I encounter every day, and Mo and Lottie is full of those everyday things: the lollipop man, the ice-cream van, and the house across the road being examples of this. My own family is a chaotic mix of half-siblings and step-siblings, and the coming together of all those different personalities was a huge inspiration for Mo and Lottie's blended family. I am a massive sci-fi fan, so it was exciting to add that element, too.
You have used an interesting way to begin the book with the two main characters vlogging to the readers, followed by a two-person narrative – why did you choose to introduce the characters and their story this way?
When I came up with the idea for Mo and Lottie, I had just finished reading an absolutely amazing YA book called 'Illuminae' by Amie Kaufman and Jay Kristoff. It's written in such a unique way and really opened my mind to different ways of putting a narrative together. Mo and Lottie were both strong characters and I felt they'd both like to tell their story, so that led to the dual narrative.
Mo and Lottie appear to be two completely different characters who have to find ways to unite to survive this adventure – who or what inspired these characters?
I have five children, who are all completely different, and four of them had to cope with being thrown together when I moved in with my now-husband. It was an enormous upheaval for everyone and brought out the best and worst in all of us. I love putting characters together who are hugely different, because we get to see them adapt and accept and grow. That's such a lovely thing.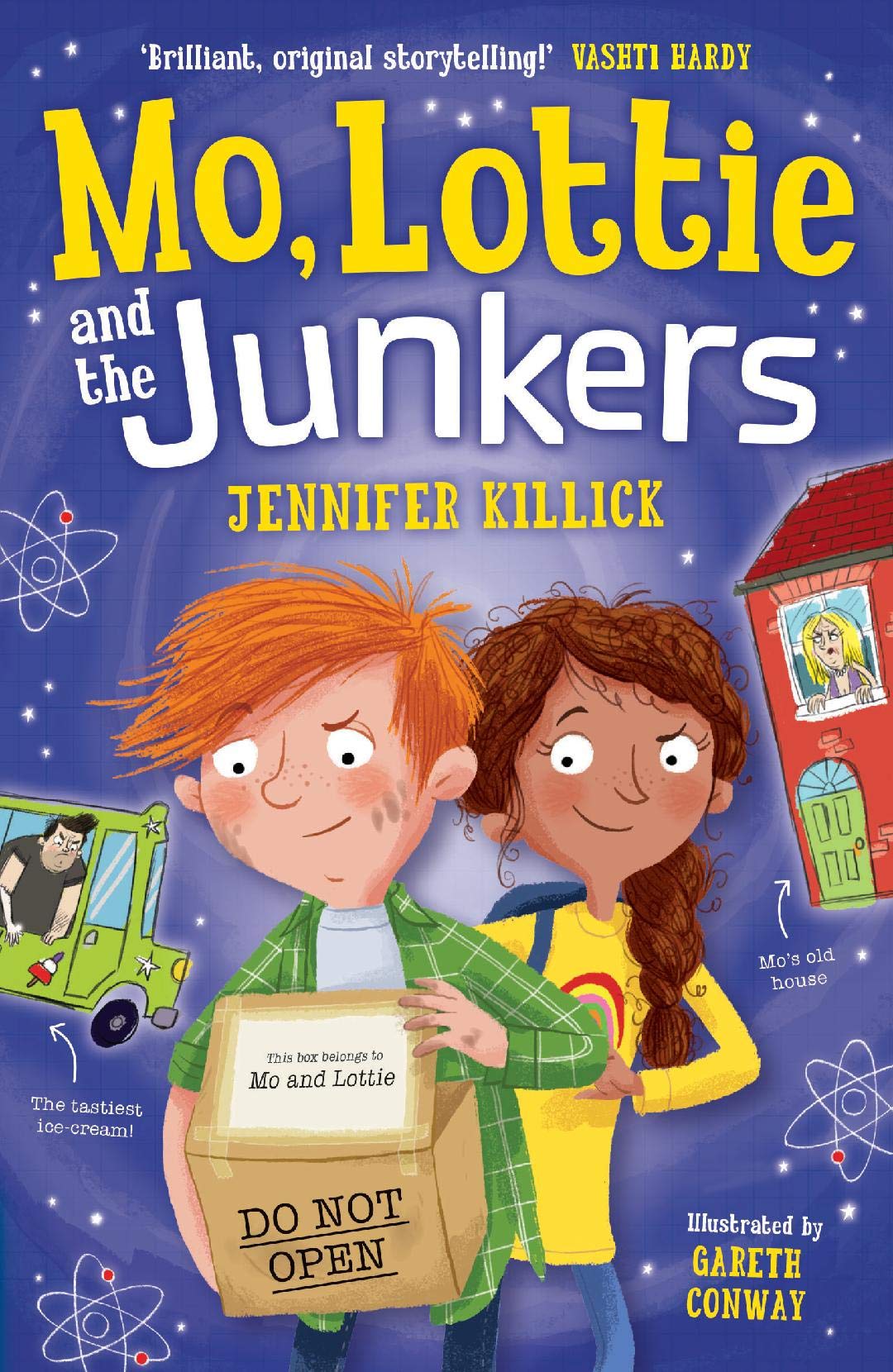 Can you describe Mo and Lottie in three words each?
Mo: serious, stubborn, kind.
Lottie: effervescent, dramatic, bold.
What do you think they each bring to the relationship and to the story?
I think that Lottie pushes Mo along, and encourages him to attempt things he might not have the courage to do alone. Mo helps Lottie to be more kind and careful. They really do bring out the best in each other, and play an equal part in the outcome of the story. I love that Mo's kindness is key to their success.
The story reminded me of Roald Dahl's, 'The Witches', the 'Back to the Future' films and Dr. Who with a little bit of Harry Potter – did these films and stories influence you? Are there other stories or films which influenced your idea for this book?
I absolutely LOVE these comparisons, although I'm totally not worthy of them! I certainly had Dahl in mind when creating the Junkers – I wanted to make them truly horrible. Back to the Future and The Terminator played a part in my plotting and the sci-fi elements. I think Dr Who inspires a lot of my stories. I love the episodes which are built around a simple concept, like the Weeping Angels, for example – so powerful and effective. I have a story being published in 2020 called Crater Lake, which was very much inspired by that sort of idea. Harry Potter probably sneaks into everything I write, as does Star Wars and the Marvel universe. For Mo and Lottie, the other main inspiration was the 'Illuminae' series (mentioned above). I think everyone should read it!
There are lots of ideas and issues for teachers to explore here, particularly around how we perceive each other and different family relationships. Have you some ideas on how teachers can use your book to discuss these with their pupils?
Teachers are spoilt for choice, with so many wonderful books to use in their classrooms. I'd love to think Mo and Lottie could be used to explore different ways of writing. There are so many ways of expressing ideas, and I'm sure children could come up with truly inventive formats. I think the thing I am most proud of in my writing, is my characters and the way they develop relationships. In Mo and Lottie, I hope I have portrayed the blending of a family in a way that could inspire children to write families and friendships that don't fit the traditional mould. And in all my stories, I hope to show that being different is a wonderful thing, and that we should treat ourselves and others with kindness. Finally, I'd love for children to use Mo and Lottie as an example of how you can find inspiration in the most mundane things. There are stories all around us, if we take the time to look and use our imaginations.
In your acknowledgements you thank Gareth Conway for his fantastic illustrations along with Kathryn Davies for the awesome cover design, what do you feel these bring to the book?
The cover of a book can make or break it, and I have been so lucky to have such talented people working on my covers. Gareth's illustrations for the inside of Mo and Lottie were beyond my expectations – they bring the story to life and capture my ideas and characters perfectly.
There are two quite sinister villains in the story. Did you enjoy creating them and their back story? Where did you get the idea for Lorelai and Mr. Gideon?
I loved creating the villains in this book – I wanted them to be utterly horrible and scary. I was inspired by Roald Dahl's brilliant baddies – the witches and those awful child-eating giants in The BFG. I really wanted to push them as far as I could, without them becoming too unsettling for children to read. I wanted Lorelai and Mr Gideon to be equally horrible in different ways, so that together they would be formidable.
I really enjoyed this book! Will there be more adventures for Mo and Lottie and will they meet Jax and Hector again?
Thank you so much – I'm so pleased that you enjoyed it! At the moment, I don't know if there will be another Mo and Lottie, but I do have a third Alex Sparrow coming in September – 'Alex Sparrow and the Zumbie Apocalypse'. There's also a standalone story called 'Crater Lake' coming early in 2020, and I am so excited for people to read it.
This slideshow requires JavaScript.