Today we welcome children's author and illustrator into The Reading Realm to talk about his latest collaboration with Jackie Morris!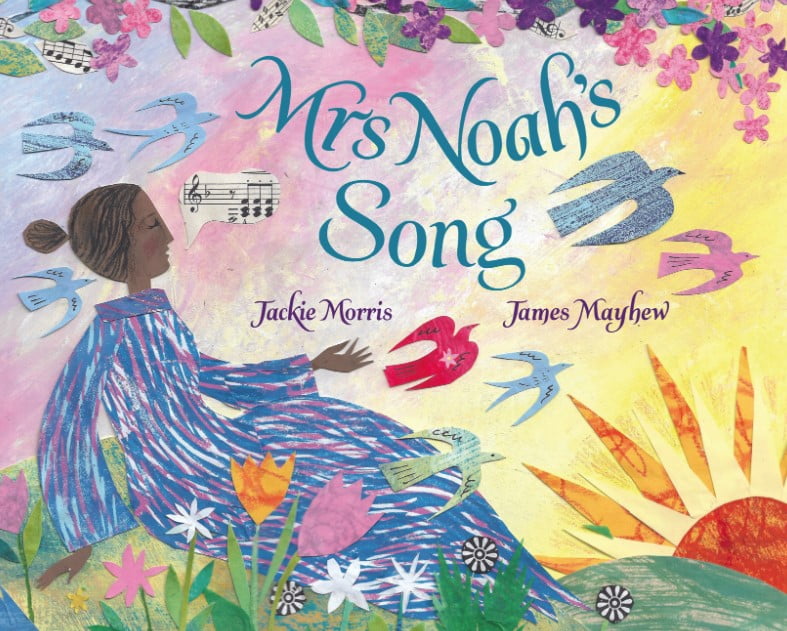 Without giving too much away, can you tell us about your new book, which is written by Jackie Morris, and called Mrs Noah's Song?
This is the third story Jackie has written about Mrs Noah, and I think it's possibly the best. It explores, gently, the things left behind when a family migrate to a new country, represented in Mrs Noah's singing – she sings the songs of her mother and grandmother. But this is intertwined with finding beauty, and song, in the natural world in her new home – and it is really the new generation, her children, who instigate all this. A beautiful, optimistic story of remembering the past whilst celebrating the future. When Jackie first read it to me, I cried. It touched on something very deep inside – the beauty of the natural world, so often smothered in mankind's noise, or threatened with environmental damage. But it also spoke of the power of music, of the arts, of memory and loss, and of communication, and sharing.
How would you say the story is different to the other Mrs Noah books in the series?
Mrs Noah has always been very resourceful, confident, free-thinking, reliable if a bit of a rebel! In this story we see her vulnerability and her sadness. We get to know her a little better I think. But at the same time, it's a joyful, uplifting story, celebrating family, nature, and song.
I wondered if you had a favourite illustration or page in the book which you could show us and talk us through?
I think my favourite moment in the story is when everyone is in the hammock, listening to the dawn chorus. When I was about ten years old, I woke up in the night, and decided to creep downstairs into the garden. We had a large, very old apple tree, big enough for a hammock, and I decided to sleep in it! One by one the birds awoke, singing their little hearts out, louder and louder! A thrilling sound, bursting with life and music. I've never forgotten it: my first drawn chorus.
When I first chatted to Jackie Morris about her ideas for the story, I described this memory. She very generously wove it into her words, and illustrating that scene brought back such vivid memories of that magical night!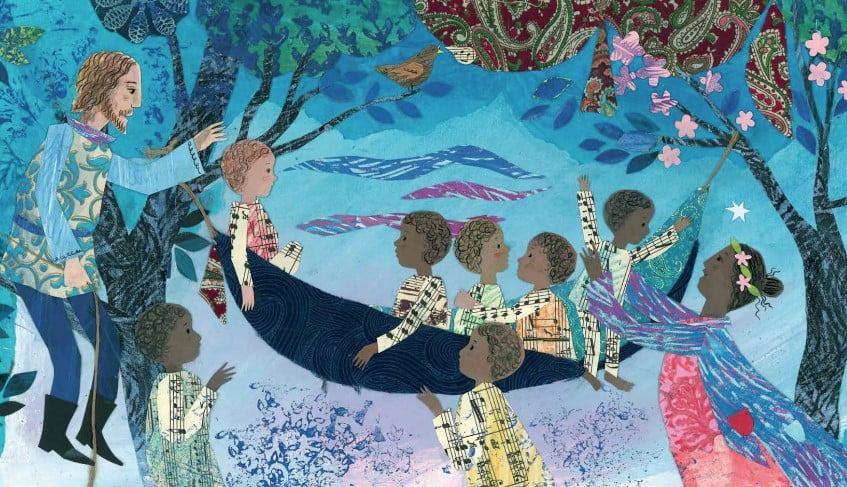 What would you say are the best parts of illustrating the Mrs Noah series? What are the most tricky part?
The print-making and collage technique I use for this series it a joyful mix of play and surprise. I first developed this technique specifically for Mrs Noah, and I love it. Some small details are very fiddly – like hands, for instance. But I'm never quite sure what I'll come up with, and I love the element of surprise. For this book (and also "Once Upon A Tune") I really enjoyed using pieces of music scores in the collage, while the printmaking gives a cohesion, and even a "musical flow" to the pages. I think, for me, it's important to find different ways of working for different books and I'm conscious, therefore, that the collage would not suit every story, but I think it suits Mrs Noah.
I know music is very important to you and an integral part of what you do. What are you listening to at the moment?
Yes! I LOVE music, and although I don't listen to music when I'm writing, I listen to lots when I'm illustrating. When I illustrated the book, I was listening to lots of folk songs from Spain, sung by a singer I love, Victoria de los Angeles. These are songs that mix many cultures – Moorish and Indian music is a big influence on Andalusian music, Flamenco etc. So songs migrate too, like Mrs Noah!
Right now I'm listening to Rimsky-Korsakov's "Scheherazade", which also has an Arabic flavour of course. It's one of the stories I featured in my book "Once Upon A Tune". It's one of several pieces I'll be illustrating live on stage, with orchestras, at concerts up and down the country, in the coming months. I'm very excited about that! There is also a *top secret* project around the book, coming next year!
Can you give us any information, or even a sneak peek of some sketches, for anything you're working on at the moment?
I can! together with my husband, Toto, we are working jointly on a book called "The Frog's Kiss" which will be published next June, for Pride Month,  by Scholastic. It's an LGBTQ twist on the fairy tale of the Frog Prince, and we are really happy and proud to be working together like this. We both worked on the story and are both working on the illustrations – a unique collaboration, I think! Although Toto is an accomplished artist, this will be his first book.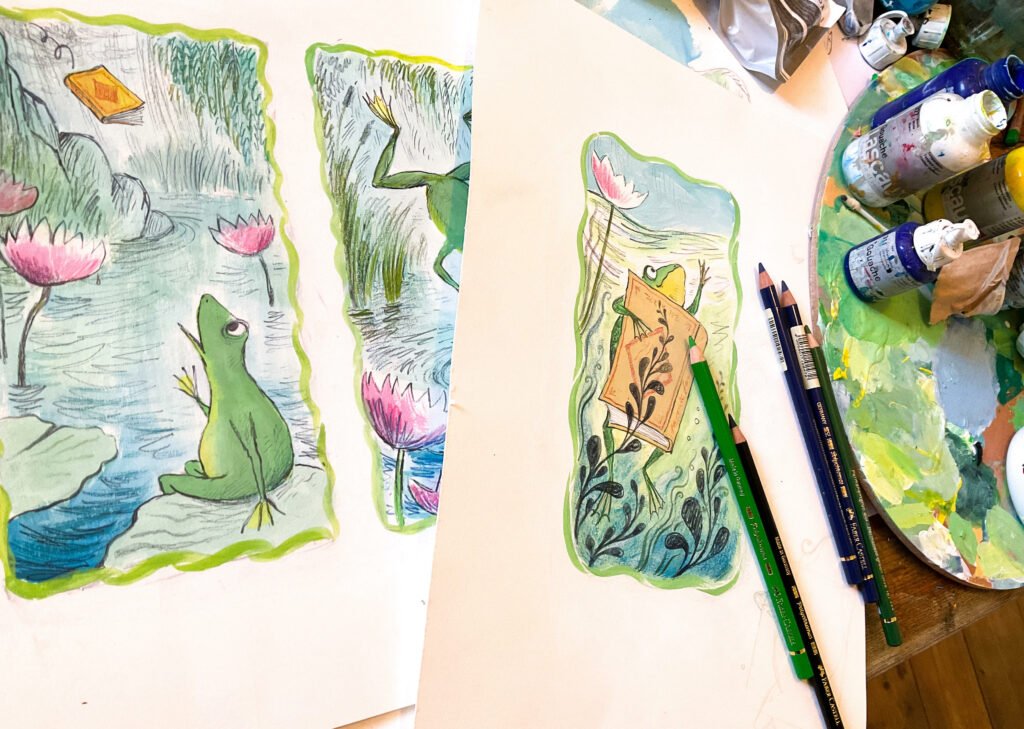 Finally, can you describe Mrs Noah's Song in three words?
Songful, Hopeful, Uplifting…