Mrs Noah's Garden, which is published by Otter-Barry Books, is published today! We're thrilled to have illustrator James Mayhew join us in #TheRealm to discuss working with author Jackie Morris on this beautiful new book…
Without giving too much away, can you tell us about your new book, which is written by Jackie Morris, Mrs Noah's Garden?
It's a sequel to Mrs Noah's Pockets, and it gently explores what happens *after* the flood – the sadness of being relocated to a new place, and how Mrs Noah uses nature, and growth, to heal.
How do you think Mrs Noah's Garden is similar to Mrs Noah's Pockets? How is it different?
Visually, of course, it is very similar, as I've used the same illustration technique. In terms of the story, we get to know Mrs Noah a little better.
The first story was inspired by Britten's children's opera Noye's fludde. Jackie really loved the designs I created for a production of the opera in Tewkesbury Abbey in 2013, the composer's centenary year. She also loved the text, based on a Medieval Chester Miracle Play, in which Mrs Noah is a fully rounded character who slaps Noah, and prefers the company of gossips – until the flood almost downs her!
Interestingly, many online reviews criticised the story for being too modern and "not true to the bible" – completely unaware that the inspiration dated from the 13th Century!
Mrs Noah is still the calm, determined, rather magnificent presence. She still loves her mythological friends, her children, and her sewing machine. But while the first story is very much about subversion and how Mrs Noah defies her husband, this new story is about forgiveness, healing and love.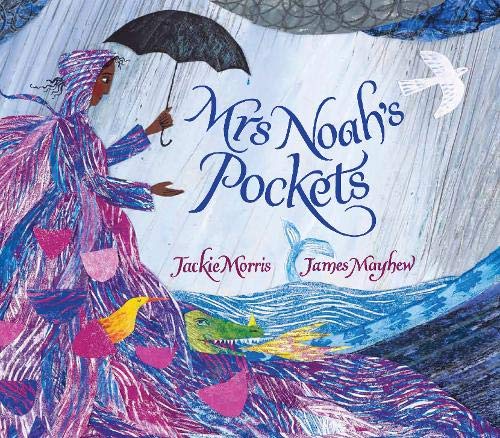 Can you describe your professional relationship with Jackie Morris – you've obviously now worked on two of the Mrs Noah books together. How has your relationship developed?
We met many years ago when we shared an exhibition space, and just clicked straight away. Jackie has always been a wonderfully strong and inspirational friend, as well as an excellent professional colleague. The two things are so closely knit, they can't be separated out. We often chat and try out ideas on each other, or bemoan the state of publishing. Even though we are opposite sides of the country – Jackie in Wales, me in Suffolk – we are close. We understand each other very well I think.
I wrote a couple of stories for Jackie a long while ago – "Can You See A Little Bear?"  was recently republished by Otter-Barry Books – and Jackie always promised to write for me in return. It took her a while, but it was worth the wait. I LOVE the character of Mrs Noah. And I love the way Jackie writes, leaving breathing space for me to really play and imagine the illustrative world. She also leaves me alone to get on with it. As an outstanding illustrator herself, she understands the need for trust between book creators.
There's a wonderful sense of texture and depth in your illustrations in this book – how did you achieve this?
When I saw Jackie's text for book one, written especially for me, I was scared. Because I instinctively felt that my usual illustrative approach just wouldn't work. I honestly felt I wasn't the right illustrator. It took me a year of experimenting, until it all fell into place. I ended up using collage, but I create my own textures and patterns on the paper. A lot of it involves printmaking. So I'll cut some lino in a pattern, print it in different colours, often in layers of colour, reprinting endlessly. This is the cut up and collaged. Other papers are painted or scribbled on. But it's the printed papers that give a cohesion, a flow to the illustrations. The lino patterns hold it all together. It takes a very long time and is insanely messy. But I just love the sense of play and experiment. It's really pushed me into new territory!
This slideshow requires JavaScript.
I noticed that many of the shapes and patterns in the book are made from musical scores. What role would you say music plays in your own creative endeavours?
Music is hugely important to me. I love music. There *is* something very musical about Jackie's language I think, too. Of course, there is the link to Britten's opera, but also this new technique, this bolder way of illustrating was partly developed through my work with orchestras. The images I create on stage, painting live during concerts, is very different from my usual illustration practise. I've learned to appreciate shape, colour, texture far more. All of this has informed my practise. And also, I find antique music scores, yellowed with age, incredibly appealing. You'll be seeing a lot more of that in my next book, "Once Upon A Tune"!
There are some beautiful nods to other myths and legends – we see dragons and unicorns and centaurs throughout the story. What inspired this?
In the first story, Mrs Noah saves the "troublesome creatures" from the flood. These are the creatures of myth and story. In a sense, it's a metaphor that Mrs Noah, a refugee, has saved the stories for us all, and travels with them to new places. I love that stories travel. Right now with Coronavirus, it is the travelling of stories that keeps me going. I adore folk tales and legends from other lands, and long to do more with them – perhaps one day I will.
So these books, both of them, are just a joyful celebration of strange and beautiful animals, that may lead a child onto other tales, myths and legends. There are Minotaurs and Firebirds and all kinds of things. There is also a little diversity – in book one, a pair of male centaurs are holding hands. In book two, they work together, helping Mrs Noah build her garden. It's a paradise of acceptance and love. This is the kind of freedom that Jackie's words allow. No-one has ever commented – perhaps no-one else has noticed. But they are most definitely there! It's important to me, to feel that a same-sex couple can be shown in ancient, mythological ways, not just in contemporary stories.
I wondered if you could talk in-depth about this particular illustration – one of my favourite illustrations in the book! My eye swooped across and around the page and it really does capture the magic of night-time. How did you go about planning and designing this? How important is movement and colour here?
This, for me, was the most important image in the book. It's a pivotal moment in the story, not really mentioned in the text but alluded to. Without giving too much away, it's the night when Mrs Noah gives birth. She is such an incredible woman – mother of the human race after the flood. I saw her, really, as "Mother Earth". I wanted a spiritual, pantheistic experience here, where Mrs Noah is in deep connection with nature, on the earth, flowers around her, Titania-like, a pink nightingale sings and a unicorn is her sentinel. Under the moon and stars, in her burgeoning garden, is where her baby is born.
The designing and planning wasn't really a conscious decision. It was absolutely an emotional response to the scene. It simply *felt* right, the composition just grew on the page. It was quite extraordinary. The swirling textures and shapes lent themselves to the hazy image in my mind's eye. There was a bit of juggling, but there was a deep understanding of what was right for this page, the shape and form of Mrs Noah, the embracing of the landscape around her. I didn't have to think about it much at all. I just had to feel it.
The book is a real celebration of nature and life. How important do you think this connection to the great outdoors is for children?
I think in recent years, there has been a huge swelling of hope for nature and the environment. Coronavirus will make us consider our place in the world more deeply I believe. Greta Thunberg of course, and Jackie's own Lost Words with Robert McFarlane (for which she won the Kate Greenaway medal), all show that there is a want and a need to get back to a better balance with nature. This story isn't exactly an environmental fable, although it connects very deeply to our relationship with the natural world, insofar as it is a garden of love and generosity, of berries for birds and happy weeds for the dragonflies and bees.
I think this is a hugely important thing, not just in obvious books where that is the clear message, but also in stories like this, which are more ambiguous, gentle and subtle, inspiring (I hope) much conversation. This story is really about a refugee woman, who misses home and so makes a garden – but of course it says so much more under the layers. A book like this can be interpreted in many ways, which makes it accessible to all children. They can all find their own thing to take from the book, and to hold tight within them. Whether it is the centaur couple, or the mixed-race children, or the nurturing of nature, or the joy of what a refugee brings to a new land, or the sharing of fruits and labours, or the birth of a new baby.
It's really quite incredible what Jackie's few, careful words, hold within them, and also very considerate that they afforded me the freedom to add my own layers.
Are there any other children's books you're looking forward to reading this year?
Obviously Jackie's new book with Robert McFarlane, The Lost Spells, amongst many others. Also Peter Bently's adaptation of Ian Fleming's Chitty Chitty Bang Bang, with illustrations by Steve Antony. I'm a huge fan of Steve, I'm sure this will be fantasmagorical!
Do you think you will both return to the world of Mrs Noah again?
I know we would both love to. We have had conversations. It very much depends of whether it is possible in practical terms. Bookshops, and small publishers have suffered terribly in this pandemic, and many authors and illustrators that rely on giving talks in schools to pay bills, have lost their livelihoods. So personally, yes I'd love to – but it can only happen if small independent publishers get the support they need from book buyers.
Finally, can you describe Mrs Noah's Garden in three words?
Life – Hope – Healing