During my time running The Reading Realm, I've been lucky enough to interview James Mayhew and Zeb Soanes and also meet them. I'm thrilled to extend a warm welcome to them both today as they join me in #TheRealm to talk about their new book Gaspard: Best in Show and what's in store next for everybody's favourite fox…
This slideshow requires JavaScript.
Without giving too much away, can you tell us a bit about your new book Gaspard: Best in Show?
Zeb: Gaspard is keen to introduce his new friend, Peter, a rather superior cat to Finty, an adventurous dog but he has no idea where Finty lives so they set off through the streets following Gaspard's nose. This leads them to a square where the locals are holding the annual fete and fancy dress dog show.  Gaspard accidentally gets entered and chaos ensues.
James: This is the second picture book about an urban fox, Gaspard, and everyone is back for another adventure, along with some wonderful new characters. It's a really funny and fast moving story, but also with an important message about being accepted for who you are.
What was it like for both of you to return to Gaspard's world? Did you have any reservations or feel any pressure?
Zeb: No reservations but pressure, certainly.  I understood what musicians mean by the 'tricky second album'.  I completed the outline of this story before the first book appeared in the shops as I knew our first year was going to be busy visiting festivals and I feared getting to September (the deadline for submitting my text for the second book) and then staring at a blank page.  The idea for the second story, like the first, came from the neighbourhood in which I and many real foxes live.  The fancy dress dog show happens each year just as it appears in the book, providing the perfect environment for mischief and adventure.
James: No reservations at all! But yes, like Zeb, a certain amount of pressure. You always want to do your best work, but it's also important to serve the story, and find the right approach for it. This book has a lot more action and several more characters than the first in the series, so it's a different kind of visual storytelling in some ways. To begin with I was nervous about creating all the dogs in costumes. But once I was in my stride I loved it, and found myself chuckling as I drew.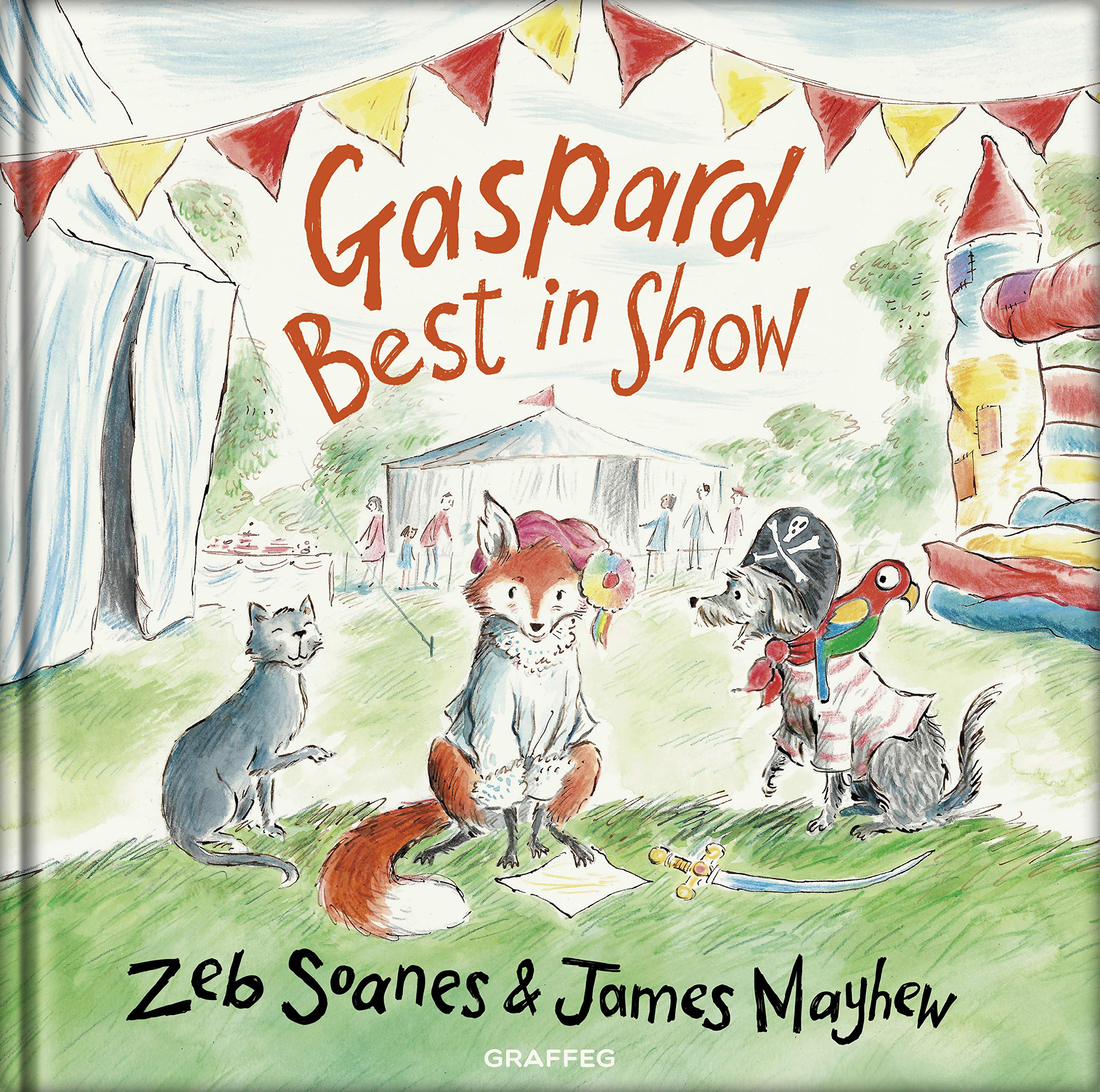 There's some lovely, complex vocabulary included in the book – Peter talks about foxes being 'crepuscular' and also expresses his disdain over dogs 'sniffing unmentionable parts of each other's anatomies'. Was it a conscious choice to include this perhaps more challenging vocabulary? How important is it that children hear these sorts of words and phrases?
Zeb: English is an incredibly rich and nuanced language and when there is an exact word for something it seems such a shame not to use it.  I tell children that a command of language is like having a superhero skill.  It's so easy to build your vocabulary by quickly putting new words into practice. I did this myself when reading as a boy, jotting down unfamiliar words as I came across them and then finding the right time to use them.  I can see I have pushed the vocabulary further in this second book; rumpus, one example, is a great word and describes far more than mere trouble or chaos, it suggests noisy confusion and is pleasing to read aloud, something I always bear in mind.
This is obviously the second book in the Gaspard series and I know there's a third planned and it's lovely to see the relationship between Gaspard and Peter develop – how has your own professional and personal relationship developed with each other as you continue to work on these books?
Zeb: James and I collaborate throughout the whole publishing process and love finding ways to solve problems, which could be me making life easier for James by allowing more space for a particular picture or James including elements in a picture that save me having to describe them.  This understanding of each other's needs and methods has grown and I never cease to wonder at James' ability to draw quickly before audiences, even upside down!  Personally, our friendship has flourished and deepened.  I feel incredibly lucky to be working with someone of such integrity in his work and attitude to life.  We spend a lot of time on the road together and enjoy times when we can share a meal and socialise outside book events.  I spent my birthday paddling on Southwold Beach with James and his partner Toto last year – they have both become treasured friends.
James: Inevitably we've have been able to get to know each other much better, and that has extended to our respective friends and family too. It's easy to get busy and not pause to reflect, but actually this is a very rare and special friendship. Professionally speaking, it's been lovely to see Zeb's writing blossom and grow in confidence, learning through experience and mastering the form. On a personal level – well, Zeb's the loveliest friend I could hope to have, and we are very at ease with each other. I think we "get" each other and of course have so much in common. We'll be friends for life, I'm certain.
What strikes me in this second book is the real celebration of the local community, seen in the coming together of everyone during the Fancy Dress Dog Show. How important was this and is the setting modelled on your own experiences of where you both live?
Zeb: It's not a cliché, we are becoming more insular through advances in social media that were imagined to make us better-connected but in reality make it easy to withdraw from real social engagement.  Growing up as the son of Methodist minister, family life was crammed with social events: teas, picnics, fetes, bazaars – chances to meet and talk to people, to dress up and play games. I'm lucky to live in a part of London with a strong community that organises events; that takes effort and requires support and it's great to be able to celebrate that and draw creative inspiration from it.  The third story, published later this year, will take Gaspard on an adventure a little further afield …
James: Zeb sent me lots of useful photos of the real dog show, and I've visited the square, but not that particular dog show. However, here in Suffolk dog shows are very common, and I've been to a couple of local ones, which have been fascinating, hilarious and informative. I think it's really essential to see how these things are done, and also how the dogs and owners interact; the body language, the quiet competitiveness, the traditions. It all feeds into how you create and interpret the characters.
Gaspard ends up wearing a frilly outfit and looking like one of the Musketeers. Was this a favourite book for either of you as children?
Zeb: In the first draft of the story Peter suggests Gaspard enters the dog show and he chooses a Musketeer costume to suit Gaspard's French name, having heard a play of The Three Musketeers on the radio.  In the final version of the story  the costume happens by accident, which is much better as it keeps Gaspard as an innocent participant.   I wish I could say I had read The Three Musketeers as a child but it was the 1973 film starring Michael York and Oliver Reed that first introduced me to the story closely followed by the cartoon series 'Dogtanian and the Three Muskehounds' (I can still remember the catchy theme tune!)
The design for the costumes was a good example of how James and I work together.  Finty was originally going to be dressed as a princess as I liked the idea of having a hairy princess for Peter to make fun of but the outfit felt too girly for Finty, so we brainstormed neutral costumes: astronaut, doctor and Pirate Finty won.
James: To be honest, not a favourite book, but I adored a cartoon series that was part of the cult 70s TV show 'The Banana Splits"!
I was interested to see a familiar face in this crowd scene – perhaps a character from the original book? James, how difficult is it as an illustrator to bring to life a crowd of people?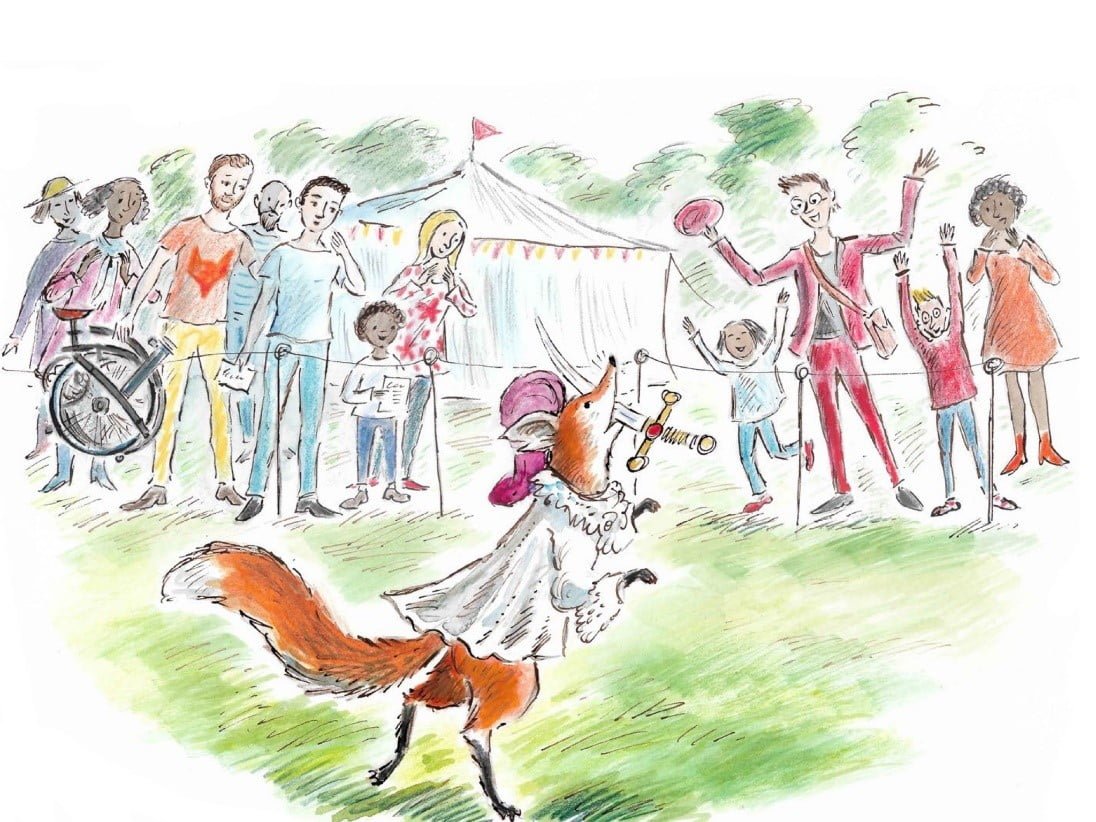 James: Most definitely familiar! We both wanted to feature the kind man with the bicycle and his partner. Early drafts of Zeb's text featured a scene for him, but it didn't fit the story arc, so I said to Zeb – don't worry, what can't be shown in words can be shown in pictures…
Crowds are always difficult. How many people make a crowd? It's tempting to overdraw and over colour such scenes, but actually less is more – for children you need clarity, and you need to keep the focus steady on the main action. It's a bit of a juggling act. These are the sort of scenes I tend to illustrate several times to get right. I always end up taking things out rather than putting more in!
The character of Honey is based on Cleo Sylvestre – could you tell us about her and why you wanted to include her in this story?
Zeb: I wanted to introduce Finty's owner in this story and for her to be an older person for whom children would feel admiration and affection.  I have always had older friends.  One of my friends is a 93 year old, who lives in Scotland!  At a young age I learned to make older friends among the congregation at our family church on my own terms.  I find it sad when some people think of older/elderly people as somehow being an alien species, too far removed from their own experiences to be able to connect with them.  Older people have simply had a head start in life.  Originally, Honey merely took Finty to the dog-show and 'a jolly man in a tracksuit' was the judge but by putting Honey at the centre of the action as a celebrated figure in the community with a fascinating past, makes her much stronger –  the sort of person everyone would want to know.  Someone who could make friends with a fox and not care what anybody thinks.  I can't remember when I realised that my friend Cleo was exactly the character I was looking for but it was a 'lightbulb' moment.  Cleo has been a trailblazer throughout her career as a British black actress, singer and presenter and it's a real pleasure to be able to pay tribute to her.
James: This, of course, was Zeb's request, as she is a neighbour and friend. I think it's really helpful to create characters from people you know. Having since met Cleo, I can see why Zeb wanted a character like her in the story, she exudes warmth and empathy, and she's just the right personality for the animals to trust in. I loved creating her character in the book, with her colourful clothes and ready smile. We'll be seeing more of her, I'm sure.
When the crowd discover that Gaspard is in fact a fox and not a dog, chaos ensues. Do you feel that people have an unnecessarily negative opinion and view of foxes?
Zeb: For centuries foxes have been portrayed in books and cartoons as sly, wicked characters – think of the Fox in Pinocchio or further back to the fable of Reynard the Fox who was a cunning trickster.  This stems from when humans started keeping livestock which was naturally a source of temptation to hungry predators and so began the battle between farmer and fox.  Foxes are shy, highly adaptable, intelligent animals with a strong sense of family and in my opinion have as much right to make their home in our towns and cities as the worms in the soil and the birds in the trees.  When we see mice scurrying around the underground we simply accept it as part of urban life and so it should be with foxes.  Humans have expanded towns and cities into the countryside and foxes have very successfully adapted to living in these new environments.  To many people they are creatures of wonder, a thrilling flash of something wild in the heart of the busy city.
I know that James created a new shade of ink for this series of books called 'Gaspard Red' – how did this come about and what's special about this shade?
James: I love using inks, but none of the "off the shelf" colours felt quite right, so I mixed my own, like a medieval alchemist. Of course, the way a colour reproduces depends on many factors, like paper stock and which printing company is used, so I probably shouldn't be such a perfectionist! But it's actually really hard to carry on with an illustration if it doesn't feel right. Early on in my career I said to myself – "if you ever say 'Oh, that'll do' – then it's a sure sign you need to do that illustration again". I've held to that all my working life, and it's one of the reasons why a detail like the Gaspard red ink is so important to me.
I took the message in the story to very much be about not mattering what or who you are but what you do and how you treat each other. Following on from this, I wondered if the rainbow coloured rosette symbolised anything in particular?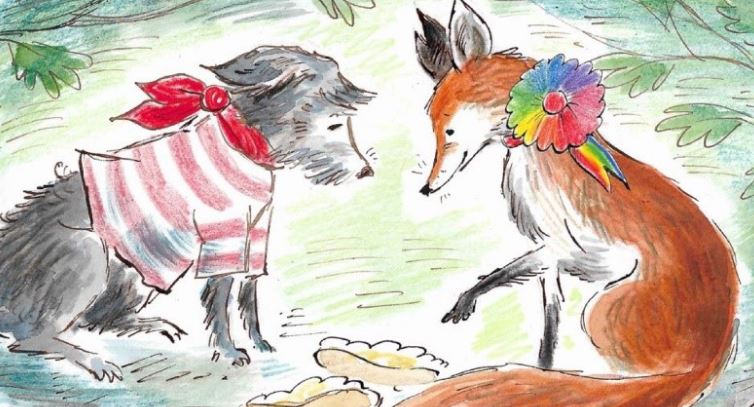 James: I completely agree, that is absolutely the message. It was Zeb's request to have a rainbow rosette, and I agreed at once, as we both feel very strongly about representation of LGBT rights in understated, every day references. The book isn't about gay characters or Pride symbols. But it has those themes woven in as part of the world Gaspard inhabits (sometimes just illustratively), just as in the real world. We both want those things to be present as a natural, normal thing. So the rosette symbolises support for the LGBT community of course, but in broader terms, it represents pride in being different and true to yourself, as well as acceptance, friendship and kindness – diversity and inclusiveness in all it's colours.
Neither Zeb nor I saw books that supported us when growing up, and it matters greatly to us both that future generations of children grow up seeing gay characters as a normal and positive part of a community.
Zeb: That is very much the message we hope the story conveys and although the rainbow colours have been adopted by the LGBT+ communities, here the rainbow rosette symbolises universal acceptance including age and ethnicity – a symbol of tolerance and kindness.
I was lucky enough to see you both performing live at your launch party for Gaspard: Best in Show and it was wonderful! How important is this live element for you both? When you're writing and illustrating, do you keep in mind the performance side of things and ensuring the 'sound' of the story?
Zeb: I'm mindful of the rhythm and music of the story.  It is very helpful to read a story aloud when writing it as it helps to find the flow of a sentence, the texture of particular words and identify any clunky phrases.   Some words are simply more pleasing to say aloud than others, such as Peter's 'ludicrous' rather than 'ridiculous'.  I love making these choices.
James: Zeb is a marvellous vocal actor, and I never tire of sharing the stage and listening to this truly wonderful voice, bring his own story to life. It's a great privilege and he is always magnificent! I think an awareness of the potential for Gaspard is always part of the process – but they must work as books first and foremost. In terms of illustration, I always begin by considering what the words need, and how it will fit into the design of a book. Any performance element comes after.
I know that you are working with composers and musicians to bring the stories to the stage – can you describe this process, how it came about and why you decided to bring the story to life with music?
Zeb:  The very first time James and I communicated we discovered a shared passion for working with orchestras.  I often narrate works for children such as Peter and the Wolf , The Snowman and Paddington  and James narrates and illustrates stories from classical music live on stage and we casually said how wonderful it would be if Gaspard was set to music so that we could perform together.  Later that year the Three Choirs Festival approached me about an orchestral version of the first Gaspard book in the tradition of Prokofiev's Peter and the Wolf and I rather nervously approached Jonathan Dove, whose music I greatly admire, to ask if it is something he would consider.  I wanted to write a new story specifically suited to being set to music but that worked as a book in its own right.  Usually I only have to write with my eyes, thinking about images that would inspire James but this time I was writing with my eyes and ears to conjure rich images for James and a soundscape for Jonathan to compose.  It has been the most satisfying creative process.  Nearly two years on from that first conversation with Jonathan, both story and music are written and James is busy on the illustrations before publication later this year
James: Although I've scripted a couple of new works for narrator and orchestra myself, I'm not the writer in this instance, but Zeb has very generously kept me very much involved in the process. The third Gaspard book (which I'm currently illustrating) is called "Gaspard's Foxtrot", which features an adventure with an orchestra, so it's the perfect material, and was written with a possible music adaptation in mind. We are extremely fortune that the extraordinary Jonathan Dove took on the commission. He's the real deal, and has written operas for Glyndebourne, and has created many other brilliant compositions. He was recently made a CBE, and it's a huge catch to have him involved.
We are hoping to tour around the country with the commissioning orchestras, including the Philharmonia at London's Southbank, and the Royal National Scottish Orchestra, and Royal Liverpool Philharmonic. It's quite a big adventure!
My role will be illustrating to the music, live on stage. I've been working with orchestras and musicians for many years, interpreting classical music with live paintings. But this will actually be  one of the few times I've have tried to represent a book and it's illustrations in a performance like this. Usually the art I create to music is very different to my book illustrations. Obviously I'll have to draw and paint very quickly – it'll be a tough challenge!
Finally, can you describe Gaspard: Best in Show in three words?
Zeb:  You are great.
James:  Fabulous Foxy Fun.
This slideshow requires JavaScript.