In 2020, teacher Tom Brassington has decided to create his own #ReadThenRecycle challenge. Find out more from Tom here!
Tom says: "I'm a hoarder of books but have found my joy in many of them. Rather than hold onto them I felt it was better to give them to others. I always believe a book that comes recommended (and free!) is always going to be more tempting."
Why did you decide to start?
The basic answer is I needed to clear some space for new books!
In recent years, there has been somewhat of a movement in the teaching profession to promote a love of literature, reading for pleasure and to showcase the innovative ways in which we help young people engage with books. I started the #ReadThenRecycle challenge because I am passionate about engaging wider communities in reading. As is the case with so many fights for change, their success often rests on the ability to reach beyond its target audience.  I believe it's only by engaging all communities, regardless of age, race, gender or class, that we can begin to truly see a reading revolution in our country; a revolution strong enough to tear people from their smartphones, to get people back into bookshops rather than scrolling Amazon and to have a revival in our library services.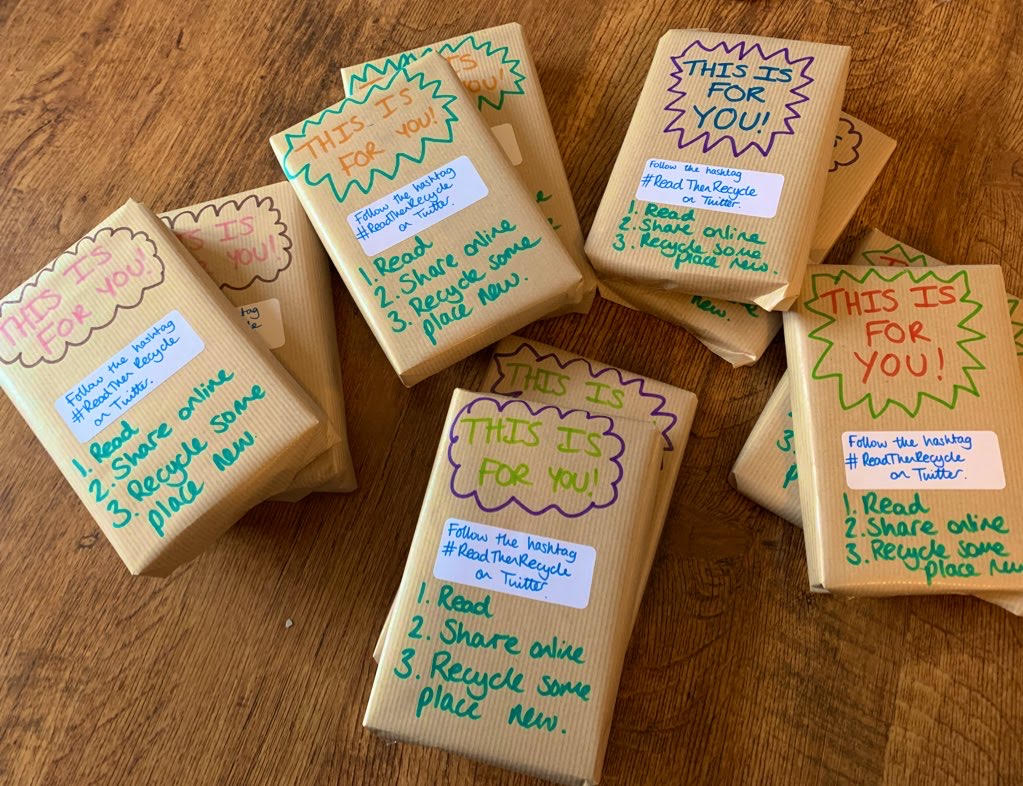 What does it involve?
The premise is simple, rather than risking the books you have read and loved facing years on the shelf, why not plant them in your local area and build up a buzz around books instead? Wrap up a book you love, make it look eye-catching and then 'hide' it someplace a lucky stranger is going to find it.
How can people get involved?
Take a look at your shelves and find any books you have loved that you are willing to give up (a tough ask, I know!) and then pop them in places around your local area. I try to do a few things when planting the books:
Put books in appropriate places. E.g. – I had a spare copy of Ravi's Roar that I left near our local scout hut.
Encourage people to engage with the movement online using the hashtag #ReadThenRecycle
Provide a range of books to a range of locations- you never know what might be a great match!
You could pop a few books in one place and add quick 'in a tweet' style summaries of the plot so the lucky person can choose what would suit them.
Is there a book you found difficult to get rid of?
Unfortunately, I can't offer any kind of therapy or support for those going through difficult 'book byes'!  I wrapped up two copies of books I loved reading during my A level studies (The Colour Purple by Alice Walker and Enduring Love by Ian McEwan). What I can promise is that there is a real joy in knowing that somebody else will get to fall in love with the pages you once did.
📚You can follow Tom on Twitter using the handle @brassoteach