Today, we're thrilled to have author Sharon Gosling voyage into #TheRealm to talk to Stephanie Elliot about her new magical, thrilling book The Golden Butterfly…
The setting for The Golden Butterfly is so brilliantly vivid! As it's set in historic London, did you have to do a lot of research? 
I always do quite a lot of research, but in actual fact I'd already done plenty into Victorian London, as my first trilogy of children's books (which started with The Diamond Thief) was also set in the city at roughly the same time. I was still living in London when I wrote the first of Rémy's adventures, and I used to drag my husband out at the weekend to walk the routes that my characters would have followed through the East End. I always try to incorporate places that are still in existence into my historical stories, so that readers can go and find them if they want to. Although the Peacock Theatre was an invention of mine, the Brown Bear pub where Luciana and Charley find Timothy Fervent and another clue in their search is real and still there.
I really love this period of history – it is so rich with invention and innovation, and there were so many strong women bucking the trend of what had been expected of them for centuries.
Are any of the characters based on people you know? 
No – I deliberately try not to model any of my characters on people I know, as I would then be thinking of that person rather than a character in my story. There are elements that were inspired by stage magicians who were real historical characters – most notably Adolphus Merritt – but I can't talk too much about that for fear of giving away spoilers to people who haven't read the book yet!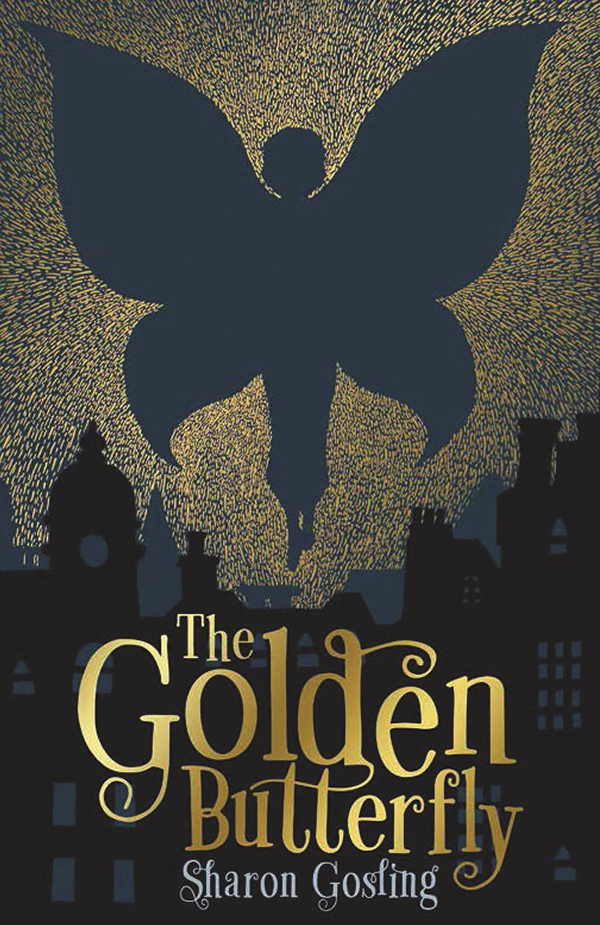 Which character did you have the most fun writing? 
That's a good question – I think each had a turn at being my favourite. I love Luciana and Charley, but I also love how determined and plucky Clara is. One character that I really fell in love with was someone I didn't know was going to be there until later on – and the readers don't know either, so I guess that worked quite well!
Can you describe your main characters in one word?
Hmm. Luciana is brave. Charley is loyal. Clara is determined. Adolphus is mysterious!
The puzzles that Grandad leaves for Ana are so mesmerising – how did you come up with the idea? 
Well, The Golden Butterfly changed quite a lot from the idea that I'd first had for it, but it had always included an element of a treasure hunt, of sorts. I also write non-fiction books about television and film, and when I was working on a later draft of The Golden Butterfly, I was also writing a book about the making of the most recent Tomb Raider film. A puzzle box features in the film, and I loved that – it seemed very likely to me that Marko would use something of the sort to hide his clues, so I took that idea and ran with it. How the hiding places and boxes opened grew out of the butterfly theme, which was in the first place inspired by the original poster for The Golden Butterfly, which I have on my living room wall. It was a real illusion from the Victorian period, first developed and performed in Britain by famed magician David Devant as The Mascot Moth, and then a year later by American magician Harry Kellar as The Golden Butterfly. How Kellar got hold of the workings of Devant's trick isn't known for sure, but it definitely involved some subterfuge, which was also part of the inspiration for the book.
Magic is such an incredibly interesting thread to weave into a story – what inspired you to include it in The Golden Butterfly?
I'm fascinated by the lengths that the great stage magicians went to in order to entertain their audiences and also maintain and guard their illusions. Some of the spectacles that these performers pulled off would wow even today's audiences. They used every new scientific innovation they could to bamboozle and amaze!
It was also – and to a great extent still is – another aspect of the world that was dominated by men. The idea of the 'magician's assistant' is a fitting microcosm of how women have historically been seen – as good helpers, standing behind a man, when we all know that the woman could just as easily be out in front were there any men willing to step back and be her assistant instead. I liked the idea of a young girl who could do just that, and who had a friend perfectly willing to help her get there.
Did you always know the story's twist was coming or did it surprise you? 
It was a bit of a surprise, actually, although it came out of a real-life example which, though different in one significant element, made me think that the idea wasn't too far-fetched. I don't want to say too much, again, at the risk of spoiling it for readers, but if people are interested to know more after they've read The Golden Butterfly, I'd recommend looking up the remarkable story of a Victorian-era magician called Chung Ling Soo.
Tell us about your creative writing process? Does the character or the setting come first? 
I can't actually remember what happened in this case, and quite often I never know where ideas come from anyway. They just seem to pop up out of nowhere! Luciana, Charley and Marko were always constants, right from the start, and it was always a story about a girl trying to piece together her grandfather's legacy of stage magic, so I think those things were probably concurrent. I think that's probably how it generally happens for me – I'll just have an idea for a story that already has a specific place and at least a basic set of characters.
What's the best bit of being an author? 
 Disappearing into a different world as I write. It's like stepping through a door and being somewhere else entirely for a while. I love that most of all.
What's next? Is there going to be more from Ana and Charlie? 
There aren't any plans for a sequel at the moment, although a few people have asked about it. It would be fun to see where they are a year or two after we leave them at the end of The Golden Butterfly, so who knows? At the moment I'm working on the next middle grade children's book, which is out in 2020. It doesn't have a title yet, but it's set in Edinburgh in 1879 and features (among other things) severed ears, ghosts, murder and a tortoise.
We always love a recommendation here! What have you read recently that you'd recommend to primary school children? 
I loved The Star-Spun Web by Sinéad O'Hart – it's such an exciting, warm adventure that I can't imagine anyone not enjoying. I also adored The Way Past Winter by Kiran Millwood Hargrave. For anyone wanting to know more about stage magic of the sort featured in The Golden Butterfly, The Wellcome Collection in London has a fantastic exhibition on at the moment, and the book they've produced to go with it is The Spectacle of Illusion: Magic, The Paranormal and The Complicity of the Mind by Matthew L. Tompkins. It might sound like heavy stuff, but it's full of photographs and posters from the period.
Thank you for asking such interesting questions Stephanie!