Grab a pencil and some paper tonight and take a journey into The Reading Realm with illustrator Steven Lenton. On the way, you'll learn all about The Nothing to See Here Hotel, written by Steven Butler and illustrated by Steven Lenton. You'll also find out how Steven became an illustrator and read his top tips for how young illustrators can develop their skills!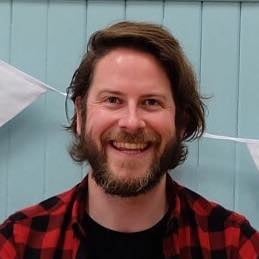 Can you tell us a bit about how you got into illustration and the route you took to becoming a professional illustrator?
I actually studied animation at Dundee University then worked in the animation industry for around 12 years including companies such as Ragdoll, Passion and Picasso Pictures. Then I thought I would have a go at designing my own characters for picture books and got in touch with agents and publishers – all leading to my first picture book deal with Nosy Crow and the Shifty McGifty series with Tracey Corderoy (book NINE coming in 2020!)
What is the process like when you're working with Steven Butler on The Nothing to See Here Hotel series? Do you receive a finished manuscript and then illustrate it or do you work together during the writing of the book?
We sometimes work together on the visual ideas but I like to let Steven do his brilliant thing and focus on the humour, plot and characters.  Then once each story is edited I like to take a weekend to read the manuscript and start sketching the new characters, consulting then with Steven on the finer details. It's such a fun series I love illustrating this series.
How has technology changed the way you work?
I often now use my iPad to design characters and rough layouts etc for my books – it saves a lot of scanning and waiting time, and it's brilliant to be able to work on trains and planes!  I still prefer to use my sketchbook and pencils though when I have more time on a project.
This slideshow requires JavaScript.
Do you have a favourite character to illustrate in The Nothing To See Here Hotel? Why?
I really love to draw Hoggit, who is the first character we draw in the Draw-Along-A-Lenton series because he is really cheeky and cute!  I really love Berol Dunch and the other mermaids from book three. Oh and the Yetis and Maudlin Maloney – too many good characters to choose from!
Which artists, authors and illustrators have inspired you?
I have always loved the Harry The Dirty Dog series by Gene Zion and gorgeous illustrations by Margaret Bloy Graham and the books of Maurice Sendak. I am always in awe of lots of today's talent too, with David Roberts and Kate Hindley never failing to amaze and inspire with their gorgeous patterns and beautifully crafted characters.
Can you tell us a bit about what's in store next for Frankie Banister and The Nothing to See Here Hotel?
I am about to read book four myself so I can't really tell you anything but Steven Butler has told me that there is an unusual Zoo and LOTS of goblins for me to draw!
 What are your three top tips for young illustrators?
1) Keep drawing things that you love – even it its copying your favourite comic book or TV characters to begin with!
2) Try and draw from real life too, and it doesn't have to be a boring still life of an apple – draw toys, pets and fun things to help you to develop a style.
3) Also experiment with lots of different media – paints, pastels, pencils of all different kinds until you find the right medium for YOU!
Want to have a go at drawing a character from The Nothing to See Here Hotel? Well, grab a pencil and paper and join Steven in his brand-new illustrators' workshop: Draw-Along-A-Lenton!