Emmett and Caleb is a moving, gentle picture book by Karen Hottois and Delphine Renon. It explores the relationship between the two main characters, Emmett and Caleb, as they journey through birthdays, spontaneous treats, hard times and through the beauty of the changing seasons.

Here, I talk to Karen Hottois about the book and working with illustrator Delphine Renon and Sarah Ardizzone, who translated the story into English.

Thank you to Caroline Gatterell for translating Karen's answers so carefully and thoroughly! 
I wondered if we could start with you introducing the characters of Emmett and Caleb and telling us a bit more about each one?
I couldn't say whether Emmett and Caleb are grown ups, adults, or big children, or even 'big little ones'… They're hybrids, not quite human, not completely animal. They're indistinct in a way.
Anyhow, they've chosen each other and love each other. 'Because it was he, because it was I' wrote Montaigne when describing his friendship with La Boétie. Caleb is antsy, he's sometimes grumpy, he doesn't play fair, he has to be helped… On the other hand, Emmett is gentle, patient.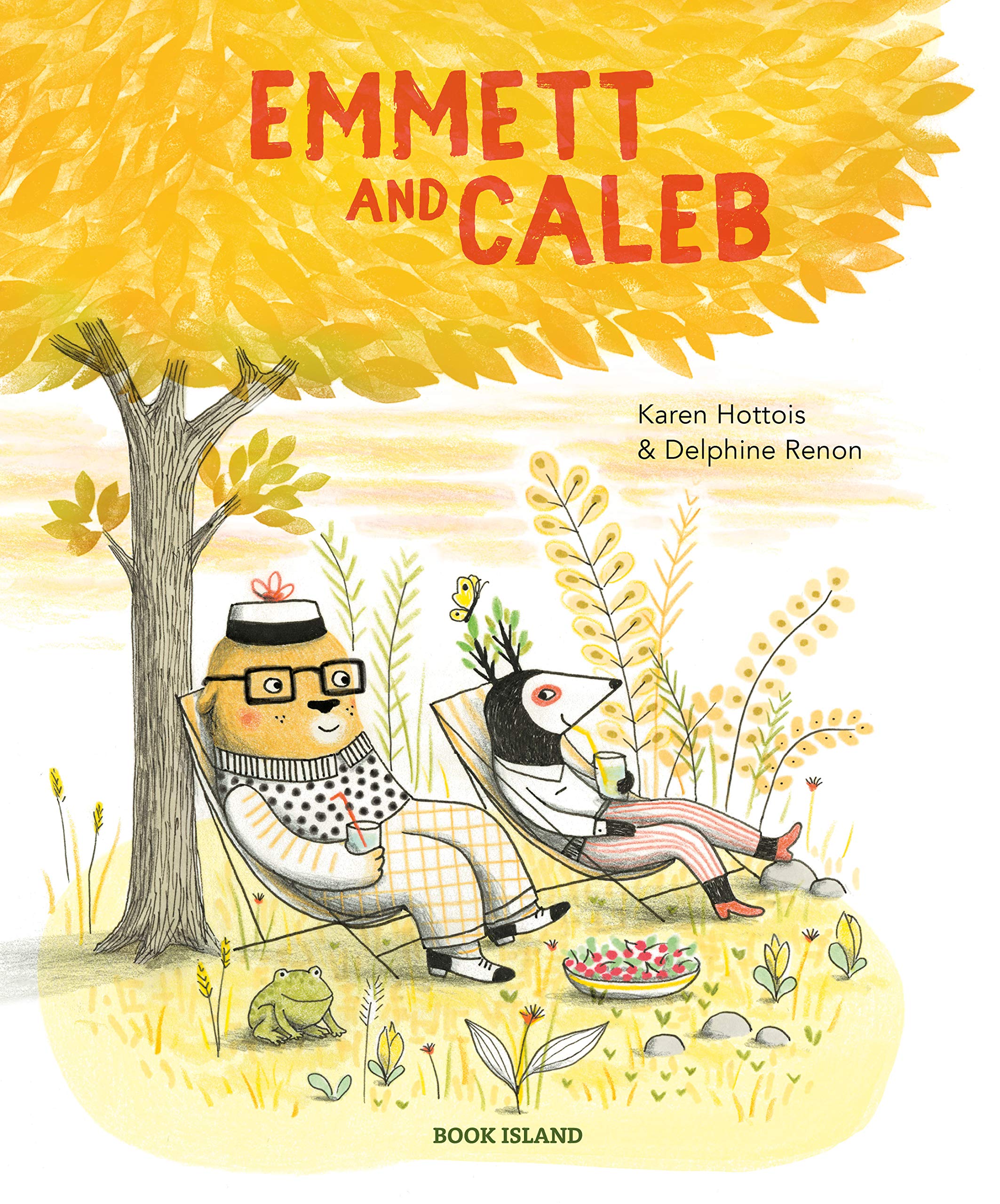 What do you think Caleb and Emmett each bring to their relationship?
Friendship and love are both made from equilibrium, but also from imbalance. I think that Caleb provides madness and sparks. Emmett spreads 'little flowers' in their everyday life. Caleb doesn't give much but what he does give is for ever. Whereas Emmett gives a bit, quietly, every day.
Why did you decide to have Emmett and Caleb living apart? How might the story have changed if they lived together and shared a house?
The personalities of Emmett and Caleb are very inspired by my personality and my partner's personality (Cédric is also my best friend), and by details of our everyday life (he always makes my breakfast and I'm a bit of a grump like Caleb ).
We live together but I still say 'my home' out of a sense of propriety, to keep some freedom. Maybe that's why they don't live together in this story. If they lived together I don't think much would change. Caleb would probably still wake up just as late and Emmett would bring him breakfast in bed. It wouldn't change their attachment to each other.
I wondered if you could tell us a bit more about this double page spread. What is happening in the story at this point? What might Caleb and Emmett be thinking and feeling?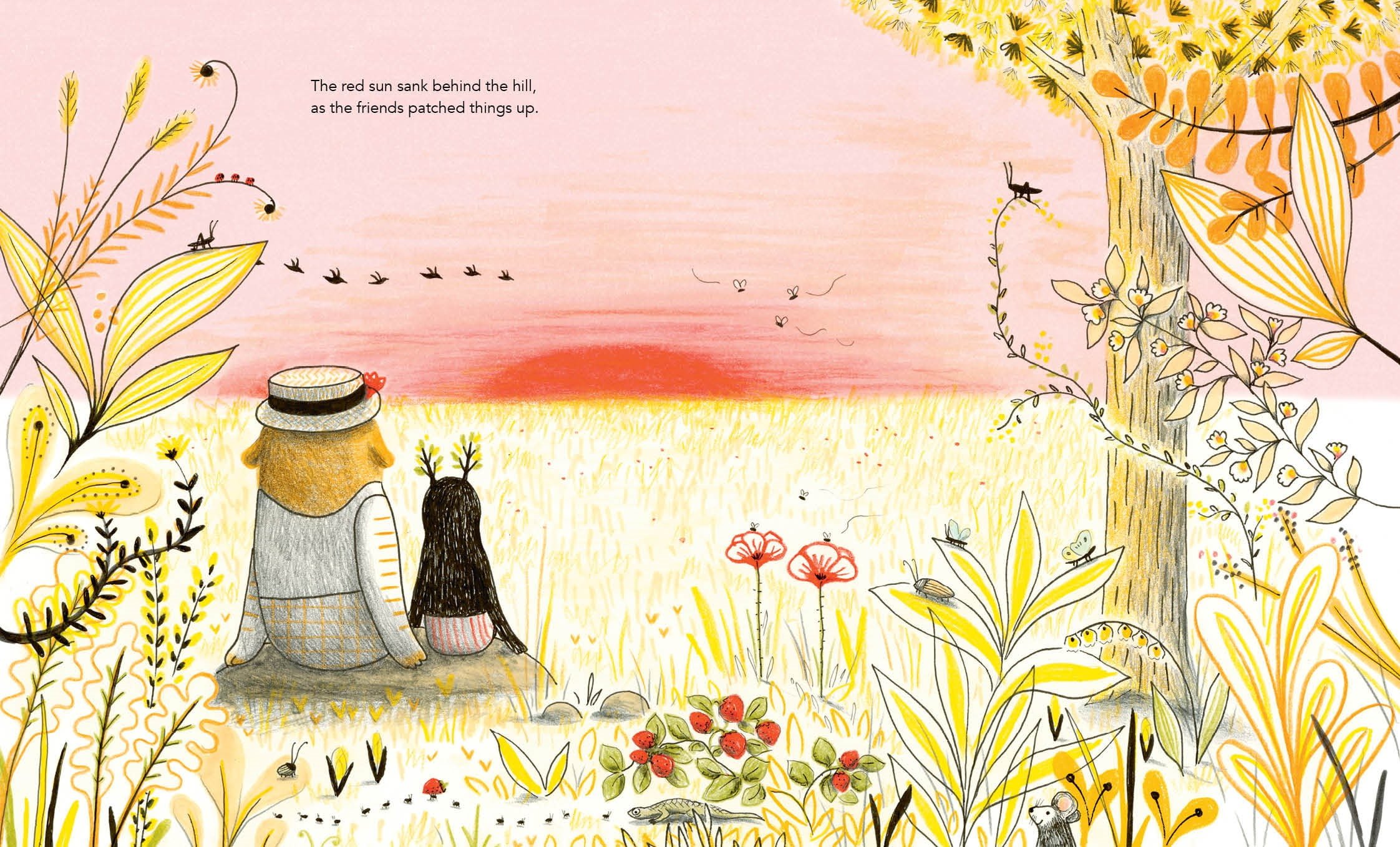 I think that they're just comfortable, being near each other. I don't think they're thinking about anything in particular. It's a fragile moment. They know and feel that this moment is precious, important, I think. What matters to them is being together, watching the sun together. What matters is sharing that sunshine.
There are some very subtle clues throughout the story (such as a rainbow coloured cake, the tentative holding of hands, the mirroring of the patterns on their clothing and the sharing of some lovely, personal poems) that suggested to me that Emmett and Caleb are very much in love. Would this be correct? Was it your intention to suggest that their relationship is more complex than platonic friendship?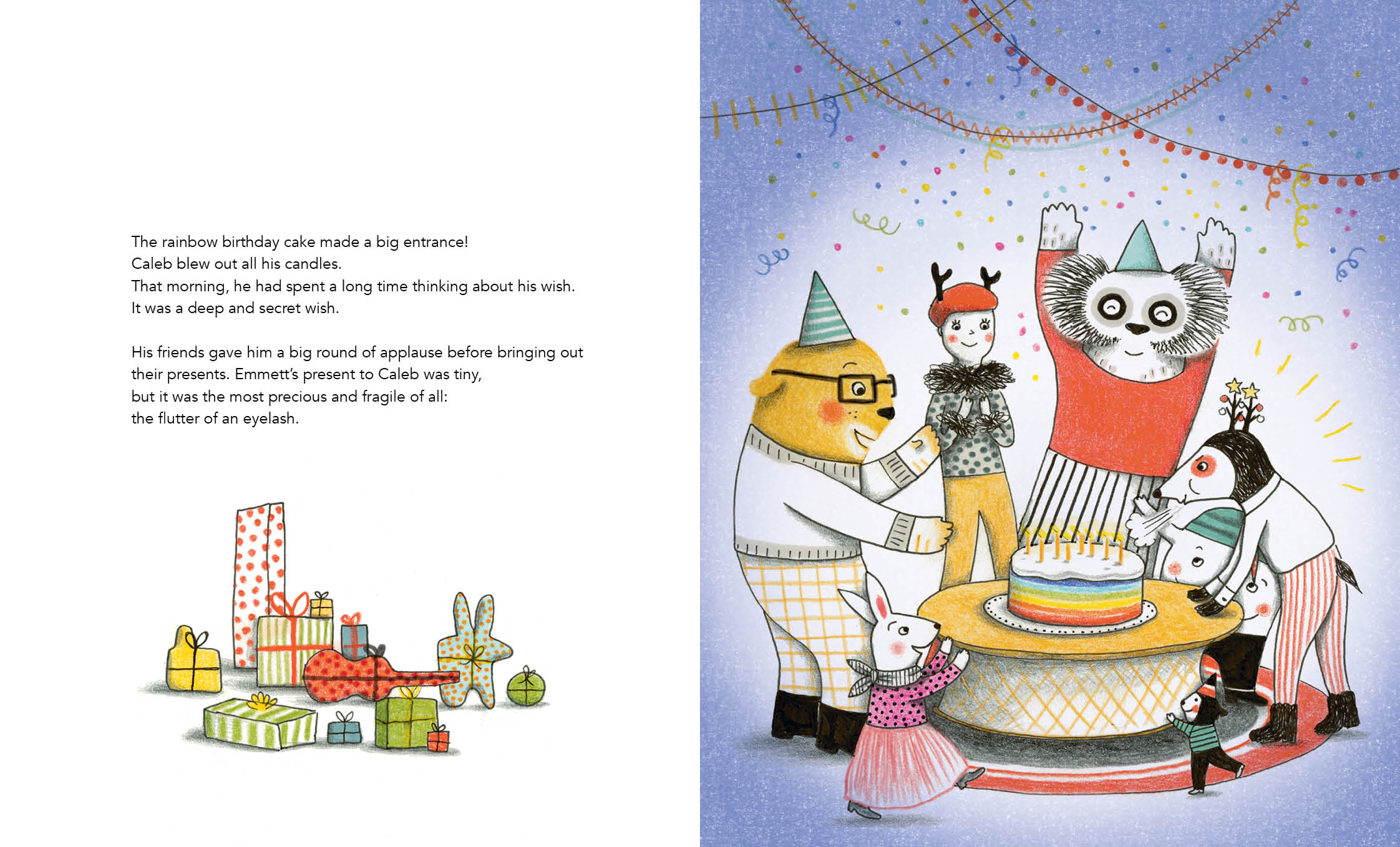 To me, Emmett and Caleb are friends but I did indeed deliberately write in such a way that they might be something else. First of all because I think that the contours of a relationship aren't always clear-cut and because I wanted my readers (children and parents alike) to be able to interpret it as they want. Nothing gives me more pleasure than when I'm told that same-sex parents enjoy the book and can identify with it.
Caleb plucks up the courage to write a poem to tell Emmett how much he loves him. What do you think it is about poetry that allows us to express our true feelings? 
I think that, maybe more than words, it's silences and things we don't say that matter. Pages left blank, secrets whispered so quietly that we can't hear them: they matter. You have to know how to read between the lines then. Because I think sometimes there aren't enough words. For example, I find 'I love you' (in French) very frustrating, it's not well-rounded enough. And there aren't enough words either to say something 'sweet'. So you have to play with words, like in this extract from Letters From The Squirrel To The Ant by Toon Tellegen, to try to get close to what we might mean.
On a winter's day, the squirrel wrote a letter to the ant:
dearest ant
dear ant ant ant ant
dear ant ant ant
dearest ant
dear ant ant ant
dearest ant
dearest ant
dear ant.
Squirrel
 I was saddened to read that there has been 'a spate of attempts around the world to remove titles depicting gay or transgender characters from library shelves' (The Guardian, January 2019). Why do you think children's books that explore the lives of gay and transgender characters and present a variety of relationships are still so important?
In each of my books, my characters choose each other as they want. An ant can choose – or can't help but love – an orang-utan, for example. It's very important to write these books, to give this freedom to children, to tell them that they can choose to love who they want. It's also important to suggest to them the freedom of becoming who they want to be. LGBT+ rights are still to be won.
"We can dig little holes of freedom with books, I'm mindful of that in the ones I write."
What was it like seeing your words transformed into such beautiful illustrations by Delphine Renon? Can you describe your relationship and how you worked together?
It's surprising first of all to uncover the illustrations, disconcerting even – because I didn't imagine them really, so it's like a present. Fortunately lots of time passes between the moment when you give the text to the editor and the one when you receive the illustrations, you have time to detach yourself from your words.
Delphine and I work separately, with back-and-forths on points of detail. It's been a smooth ride, modest. I think we have a lot of time for each other.
And at the moment we're finishing the second volume of Emmett and Caleb (The Great Journey) which is coming out in France in May!
The story has been translated into English by Sarah Ardizzone. Is there anything that could not be translated exactly from the original French version or anything that has slightly changed or shifted in terms of meaning during the translation process?
Yes absolutely. For example: the name of Caleb in French is Cambouy. Cambouis is the black oil you get in car engines. He likes doing odd jobs in his garage – and he has a stronger, more sombre personality than Emmett.
I'm happy with Sarah Ardizzone's very beautiful translation.
Nature and the outdoors seem to be an important theme in the story – have you always felt a connection with nature and the changing seasons?
Nature is very important to me – I come from the mountains and I miss them terribly when I'm in Paris. They calm me. I find that you never feel alone with them. In the city you can feel very alone, a building, concrete, the metro – they don't fix you. The forest mends, the sea washes your eyes. In the city, you have to search for gaps to let your mind wander. In the wild, you just have to look, the curve of a hill, the crest of a wave…
You talk about Caleb promising to take care of Autumn. What does this mean? How can we take care of the seasons?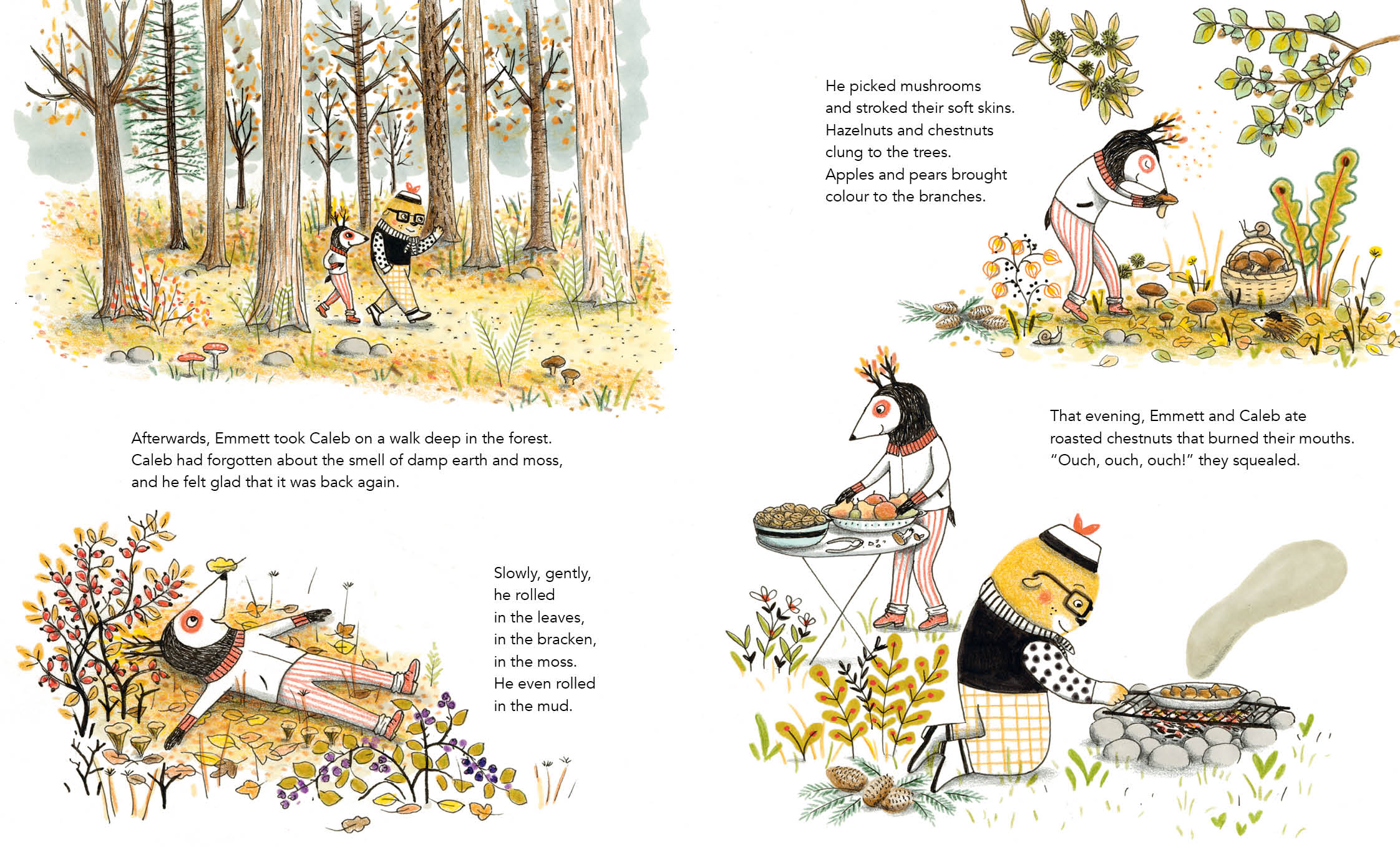 We can take care of the seasons by experiencing them with care, fully. By ensuring we don't miss the moments that each one offers. One book left a mark on me: Marcovaldo, or The Seasons in the City by Italo Calvino. Marcovaldo is a humble labourer who has a lot of poetry, he knows how to look between the wrinkles in the Tarmac. It's a very beautiful book about freedom too.
Caleb is very much affected by the passing of Summer. Do you have a favourite season? Is there a season you particularly dislike?
I think I like summer less – well I like summer mornings and evenings but not the middle of the day in summer, it's hot, it's long. But that's also this time when you get bored and when you grow. Maybe I do like it all the same.
Like Caleb I was born in winter, I think that that colours one's temperament. It's the season I feel the most connection with.
I like autumn because it's a romantic season and because there are lots of things to pick. I like picking things.
Apart from your own books, is there any other books or authors you would recommend to children that deal with similar themes?
Most of all I like the Toon Tellegren book Letters From The Squirrel To The Ant.
I like all Anne Herbauts' books!
And Janosch's too!
I wondered if you had any thoughts about what Caleb and Emmett are doing right now?
Maybe Emmett is pruning his rose bushes or tidying his garden. And Caleb might have drawn his curtains because he might not want the sunshine and spring arriving straightaway. He's not ready yet and prefers to stay in the warm at the bottom of his bed for a bit longer with a pile of books around him. Maybe Caleb's waiting for Emmett to come and get him, maybe Emmett is just counting to one hundred before heading there…