Brothers Eric and Terry Fan are best known for their magical, surreal, gorgeous picture books, including The Night Gardener, The Antlered Ship and Ocean Meets Sky. Here they talk to Ian Eagleton and Jon Biddle about their work, their passion for music and travel and the transformative power of our imaginations…
We wondered if you could start by telling us a bit more about your new book The Scarecrow, which will be released in September 2019?
The Scarecrow is a picture book that we're illustrating written by Beth Ferry. It's being published by HarperCollins, and tells the story of a scarecrow who rescues a baby crow that has fallen from its nest. Basically, he goes from scaring to caring.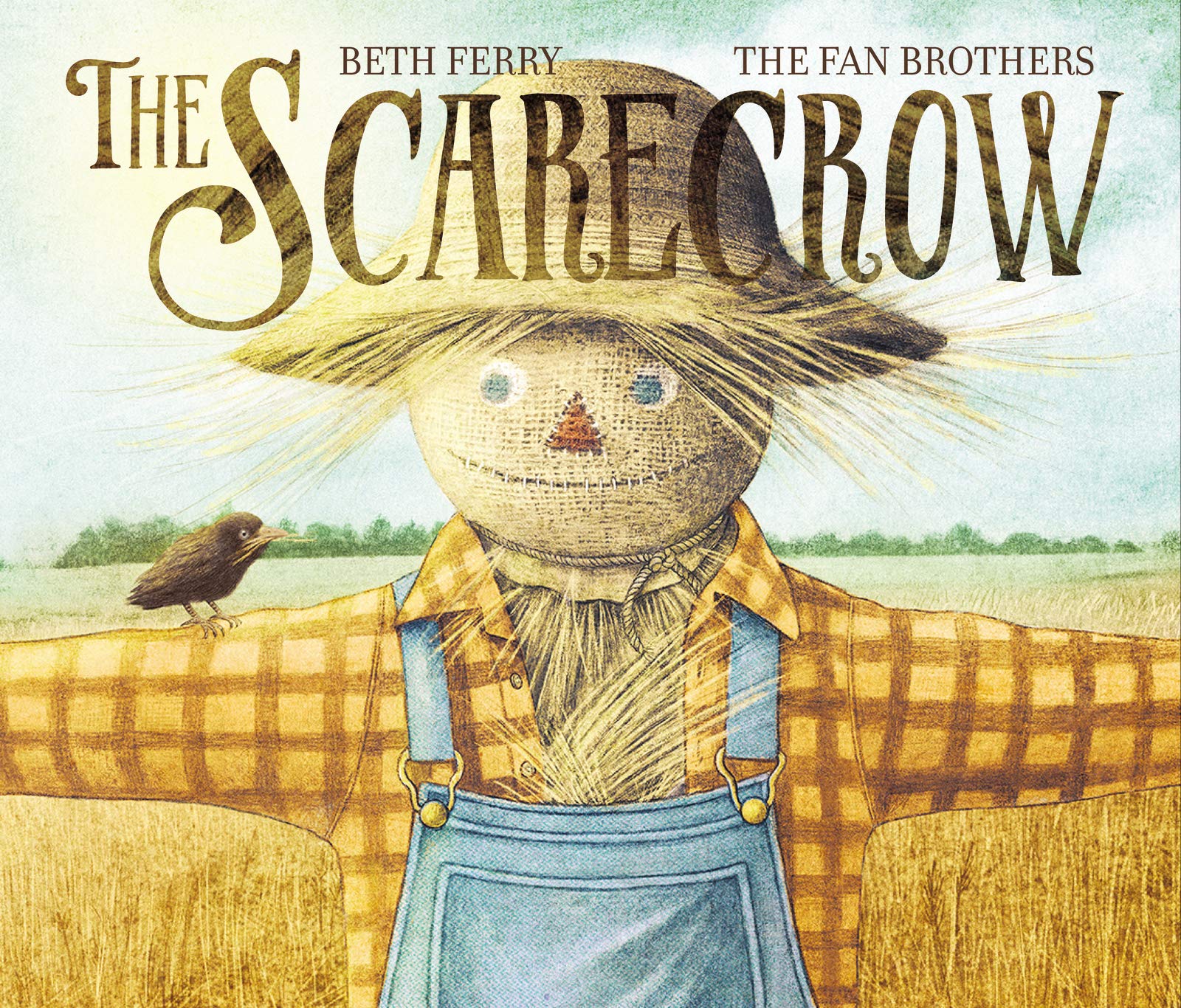 How will The Scarecrow be similar to your other stories? How will it be different?
I don't think we've ever done a story that was focused on a single setting and a character who is unable to move from that setting. It provided an interesting challenge of trying to introduce enough visual variety. Beth Ferry wrote a lovely text; the first story we've worked on that has a rhyming text. In terms of similarities, like most of the stories we've been a part of it straddles the line between realism and the fantastical. I think that's something we're both inherently drawn to.
The Antlered Ship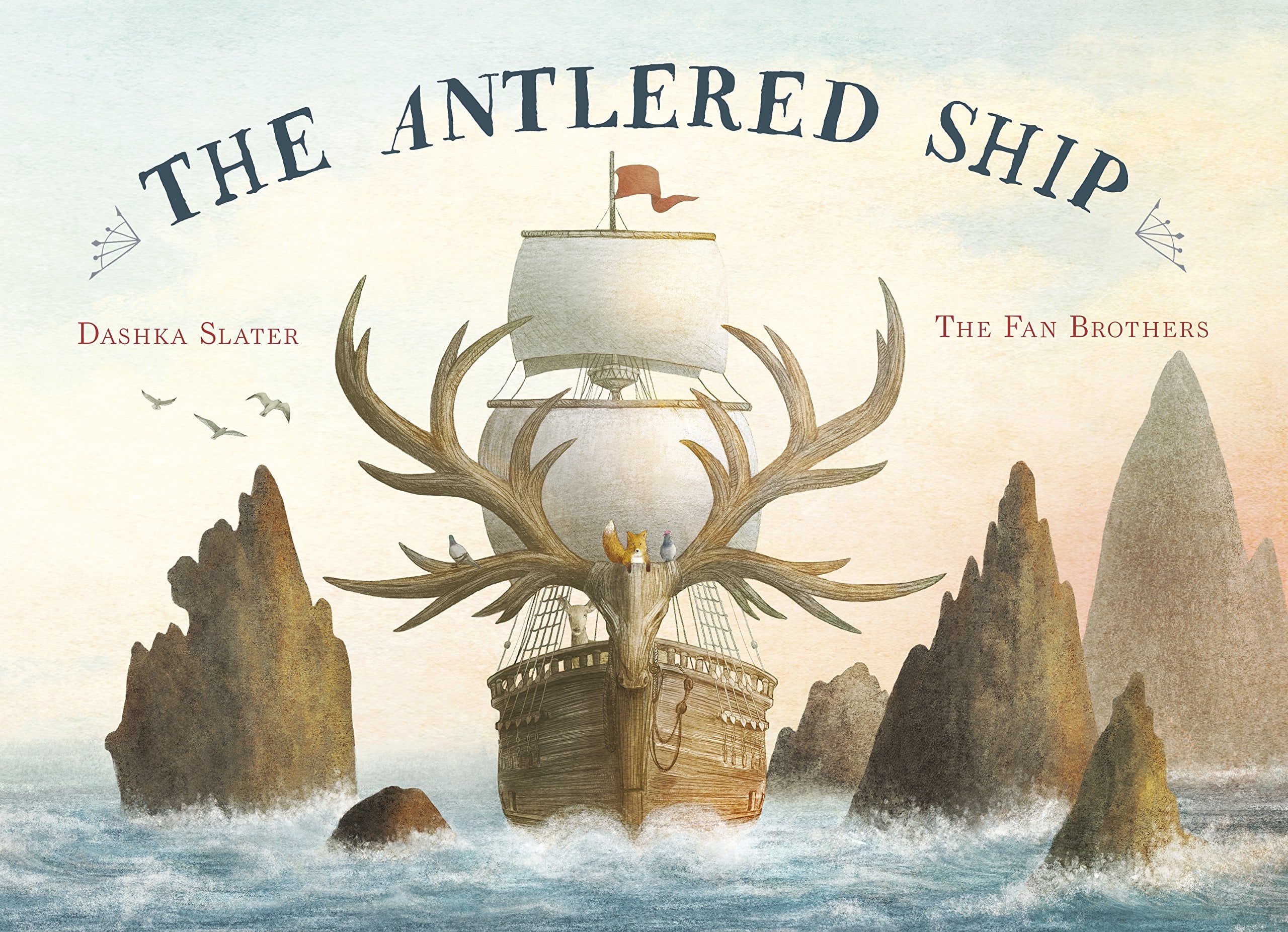 The animals in The Antlered Ship look very realistic. What techniques did you use to create this more natural look? Why did you decide to present the animals in this manner rather than in a more anthropomorphized style?
It's funny because we actually considered both possibilities when we were doing the initial concept drawings. We did some sketches with anthropomorphized animals and some with more realistic animals. Books are a collaborative enterprise, and so you sometimes find yourself leaning on your editor or art director for guidance. In this case they felt the naturalistic animals resonated with the story, and so that's the direction we went with. Here are some early sketches we did with more anthropomorphized foxes:
This slideshow requires JavaScript.
Can you talk us through the process of designing and illustrating the ship itself? What inspired the design?
We have to credit the text with inspiring the design because the first time we read it a very vivid image of the ship popped into our minds. The hard part is always taking what's in your head and getting it onto paper. We did a lot of sketches and eventually the design emerged on paper. Here are some of our concept sketches:
This slideshow requires JavaScript.
We particularly like this double page spread from The Antlered Ship – the way your eye is guided toward the island and the way the animals are watching out over the beautiful night sky. Can you tell us about what you were trying to achieve and your artistic decisions, in terms of colour, layout and perspective?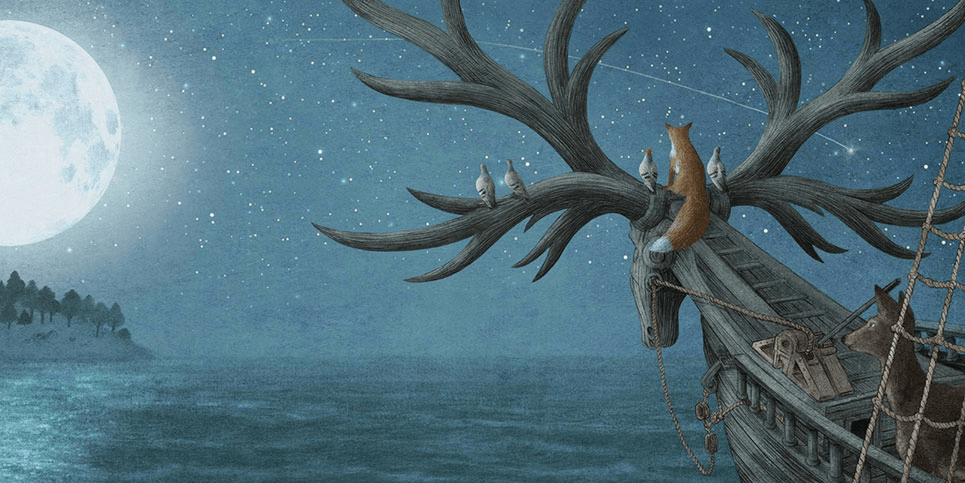 It's such a significant moment for the characters that we wanted it to be from their perspective, looking out. The idea was to put the reader with them on the ship, so you can feel some of that excitement and anticipation. We liked the idea that Marco is perched as far forward on the ship as possible. Even though there's excitement we wanted the mood to be quiet and magical, so there's also a sense of stillness and calm, which is also reflected in the colour palette.
The Night Gardener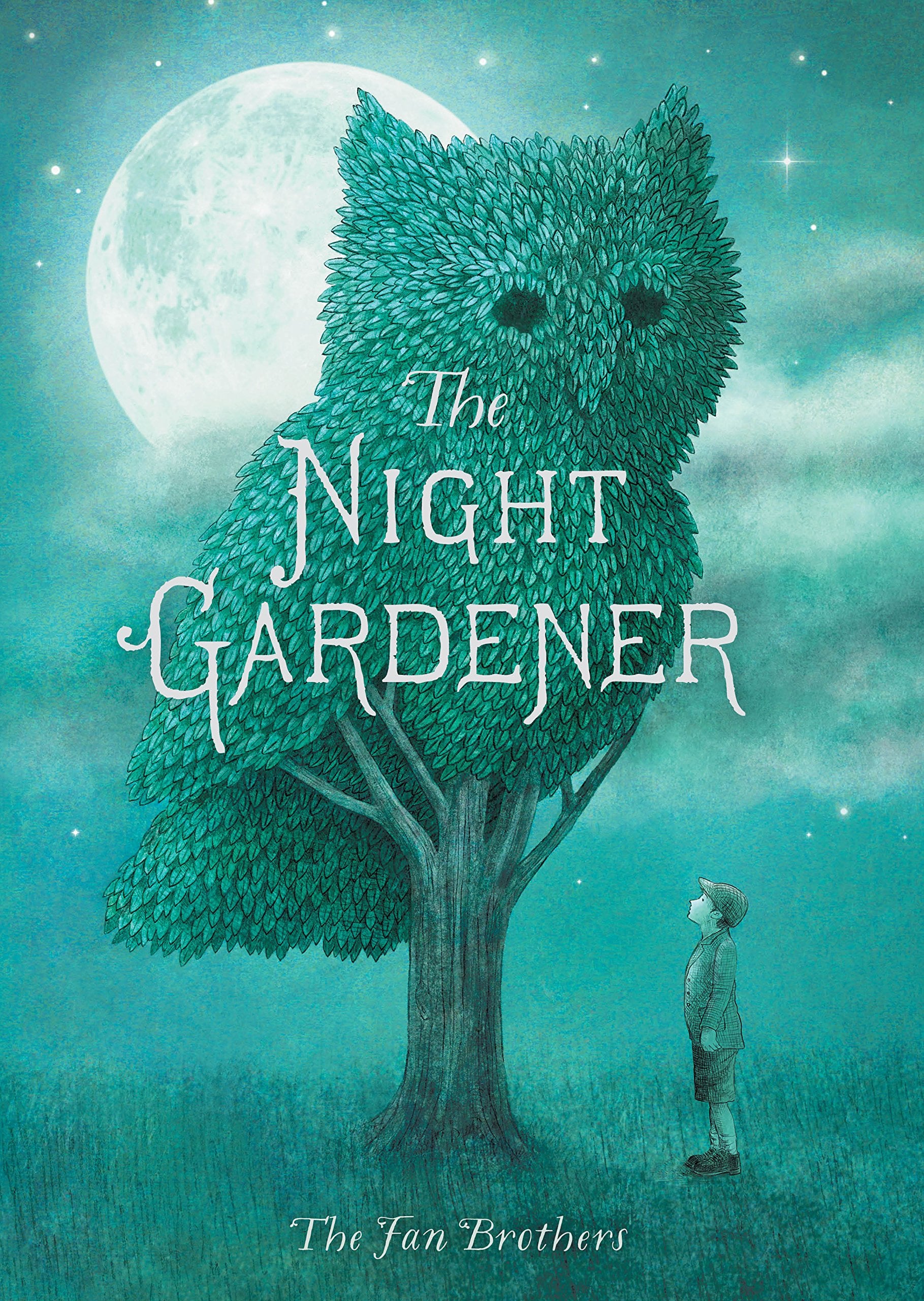 The relationship between William and the Night Gardener is obviously central to the story. We wondered if the Night Gardener is based on anyone in your lives?
We've told this story before, but our dad grew up in the Taiwanese countryside and has always had a great love for nature and trees: something he passed on to us. He was an environmentalist long before the movement really took off. When he moved to Toronto I think he missed the lushness of Taiwan and so he filled our house with plants and trees. Our living room was almost a miniature jungle; there was even a parrot flying free inside the house. I think his character and spirit definitely find their way into the character of the Night Gardener.
They also both have a love of hats: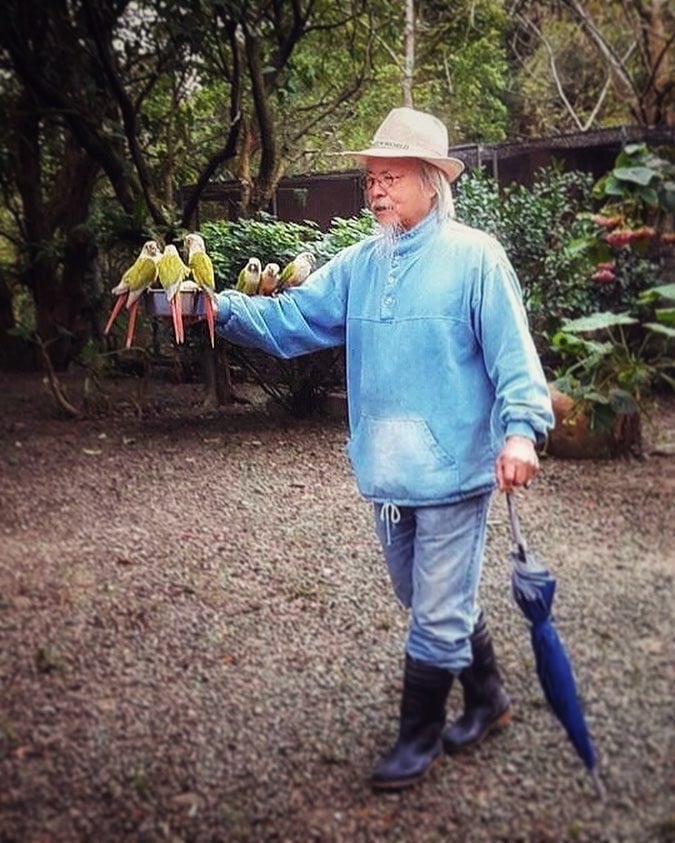 William's life is completely transformed by the Night Gardener. Who would you say has had the most influence on you both as children?
Both of our parents had a big influence on us as children. Thankfully we grew up in a household that encouraged storytelling and art. Our mom is a professional harpist and was always our biggest champion as far as our art. She was always very encouraging, even when we were little. Before we could even read or write very much she helped us put together our very first book, which was a story about dinosaurs called Many Years Ago. She helped transcribe the text for us and staple the whole project together – our first editor and art director, you could say.
By some miracle we still have the book:
This slideshow requires JavaScript.
It's nice to think that the Night Gardener has perhaps moved on to somewhere else and is now bringing joy to other people. Have you got any ideas about what the Night Gardener might be doing now?
The story emphasizes cycles and seasons, so I like to think he went on to rejuvenate another town somewhere. Our original idea was that the Night Gardener was nearing the end of his life, which was one of the things that motivated him to find an apprentice to "pass the torch" so to speak. We did put an Easter egg in Ocean Meets Sky on the back cover. If you look closely you can see William and the Night Gardener on one of the zeppelins:
Ocean Meets Sky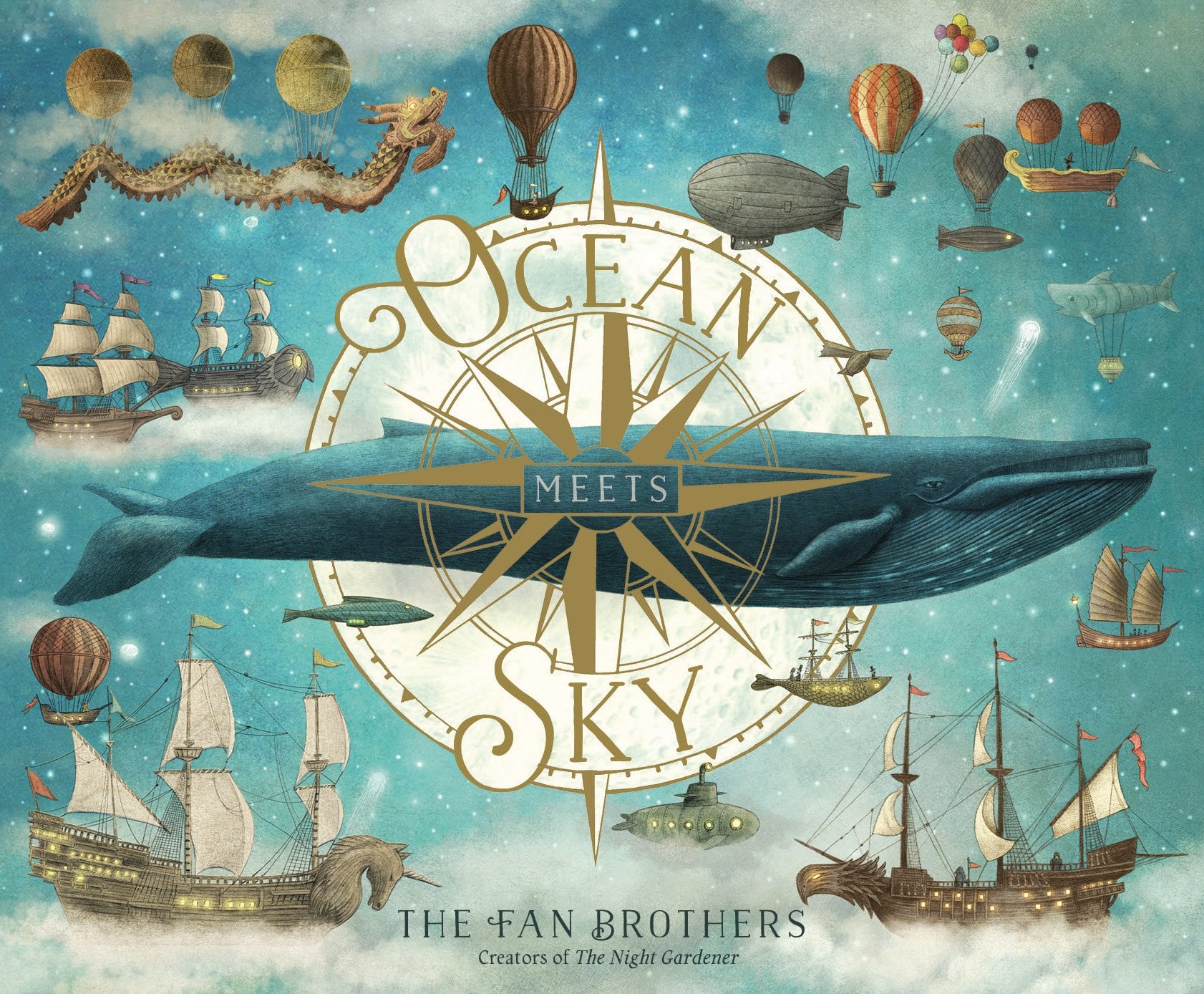 One of the main themes of Ocean Meets Sky is families and their relationships. Can you sum each other up in five words and, although we hope that disagreements are rare, who usually has the final say?
It's difficult to sum up someone in five words. We're both pretty similar in temperament and in our overall interests. We're close in age and people often mix us up. It's a bit like being twins. We also moved around a lot when we were younger and so we relied on each other quite a bit. Without a fixed sense of "home" our imaginations became a kind of portable home, like a turtle's shell, and we spent a lot of time in our own heads, thinking of stories and creating imaginative worlds.
I think a few disagreements are inevitable with any collaboration. That's part of the creative back-and-forth that can ultimately results in a better project. Neither of us has the final say; it's usually a process where we reach consensus over time by sitting with the art for a while. Usually the best solution will win out on its own, after sufficient time has passed to allow your own ego to release you from its bias.
We could spend hours gazing at the beautiful hot air balloons, ships and Zeppelins in the book. How important is travel and exploration in your adult lives?
We both love to travel, and our books have given us some exciting opportunities to visit places we've never been before. We were recently in New Orleans for the first time, for ALA, and that was amazing. When we were little we travelled a lot too, and even lived in Australia for a year where we attended school. We've also spent a lot of time in Taiwan visiting our dad, since he retired there many years ago. Every place you visit opens your mind a bit and takes you out of a parochial mindset.
The books shown in the Library Islands include Harold and the Purple Crayon, a book Jon vaguely remembers from his childhood. How did you decide which books to include?
We included a lot of personal favourites, and books that had an impact on us growing up. We also tried to pick books that resonated with the theme of adventure and travel. Harold and the Purple Crayon was actually picked by our editor Justin Chanda, and our art director Lizzy Bromley. We asked them to pick a favourite book to include. There are also books that are purely imaginative, that are a tribute to various family members and friends.
What do you think the main themes in your work are?
We try to explore different themes with every book, but I'd say that one consistent thread is the power of imagination and how transformative it can be: both as personal transformation and also in the larger sense.
Are there any illustrators, artists or authors who have particularly influenced your work?
Where the Wild Things Are was the first book we fell in love with as kids. Sendak has definitely been a big influence on us, both as a writer and an artist. We were very fortunate to be selected for the Sendak Fellowship a couple of years ago, which took place at a farm that Sendak owned and worked from occasionally. We worked on Ocean Meets Sky while we were at the farm, and it was incredibly inspiring to be surrounded by his art and spirit.
We believe you're from a musically talented family. Was forming a band ever an option, and what are you currently listening to?
We did form a band very tentatively for a short period of time. We had a lot of noisy, chaotic jam sessions, mostly covering songs by The Police, The Doors, and a few original songs. We were quite terrible unfortunately, although the guitarist who played with us went on to go to Julliard and has released a bunch of records. Our older brother Paul has had a lot more success as a musician. He formed the group Grant Lee Buffalo, which released some amazing albums in the 90s and toured with bands like REM and The Smashing Pumpkins. His new group is called Pistol Star and he just released a new album, which is great.
The music we listen to now is a pretty mixed bag: from Bach to Thelonious Monk, to newer music like Sufjan Stevens, Bon Iver, The Decemberists, The Go! Team, Vampire Weekend, etc. We still listen to the music of our youth as well: The Clash, The Ramones, Bowie, Joy Division.
Jon has a very gifted 10-year-old artist in his school, who's been working hard on developing his portfolio (see photos below). What one piece of advice would you give him?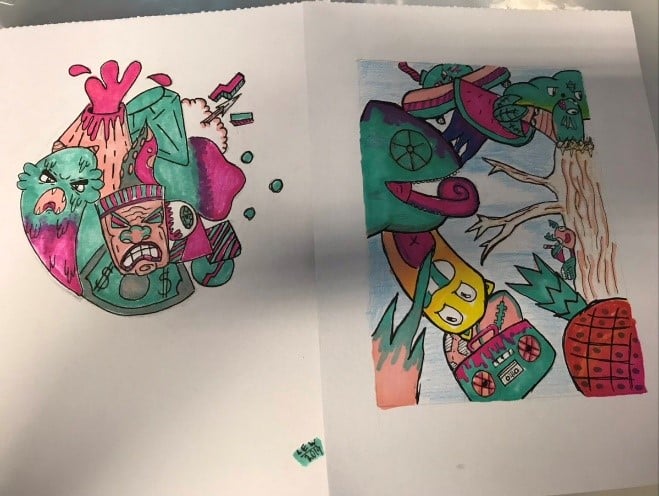 Wow! He is very gifted! I love that his work already exudes such a strong sense of personality and design. He's already confident enough to move past simple representational art and experiment with interesting colour palettes and stylistic choices. I wish my art had been that accomplished at that age! Our advice would be to draw every day and ultimately to get your work seen by as many people as possible. It's a lot easier to do that now than when we were growing up. Social media platforms like Instagram, and online print-on-demand sites like Society6 and Redbubble, open up a worldwide stage to have your artwork seen. Our agent, Kirsten Hall, actually first discovered our work on Society6, so we probably wouldn't be making picture books if it wasn't for those sites.
Something that was never really communicated to us when we were younger is that it is indeed possible to have a career as an artist. We were told that it was something that could be a hobby, but not a career. I wish we had known earlier that with hard work and passion there are amazing opportunities for artists. Although we both went to art school (OCAD University ion Toronto) our careers in art didn't blossom until later in life after we had both worked in other fields.
Let's jump forward ten years or so…what will The Fan brothers have achieved and where will you be?
That's hard to say! We tend to only look forward as far as our next book. Each book is kind of like a mountain range on the horizon, so your focus is on getting over that mountain and then looking for the next one to climb once you get over it. We have two books we're working on currently, so it's hard to see past those. We probably won't know what lies ahead until we get to the next valley…
*************************************************************************************
Thank you to The Fan Brothers for answering these questions so thoroughly and passionately and thank you to Jon Biddle for joining me in The Reading Realm and thinking of such interesting, perceptive questions for our joint interview!