Charlie Morris, Senior Publicity and Marketing Executive at the Little Tiger Group, talks about PROUD, a rainbow-riotous celebration of LGBTQ+ talent. PROUD is a stirring, bold and moving anthology of stories and poetry by YA authors and illustrators, responding to the broad theme of pride. Each piece of writing has an accompanying illustration by an artist identifying as part of the LGBTQ+ community.
What would you say the main themes in PROUD are?
We gave our authors one word as a prompt: pride. Their interpretations of pride is varied and personal, which made way for multiple themes. PROUD features a variety of genres, including powerful poetry on coming out as a young black gay man, and as a lesbian going through a painful internal battle against the backdrop of a historic Queer venue. There's also a literal re-interpretation of pride with a contemporary Pride and Prejudice retelling, taking the well-known story and giving it a modern lesbian twist. There's a D&D inspired quest from a non-binary trans character on a mission to make a school gender neutral, and there's a beautifully symbolic Chinese lesbian fairytale which explores familial and societal expectations. The main themes include coming out, mental health, freedom, community, joy and perseverance.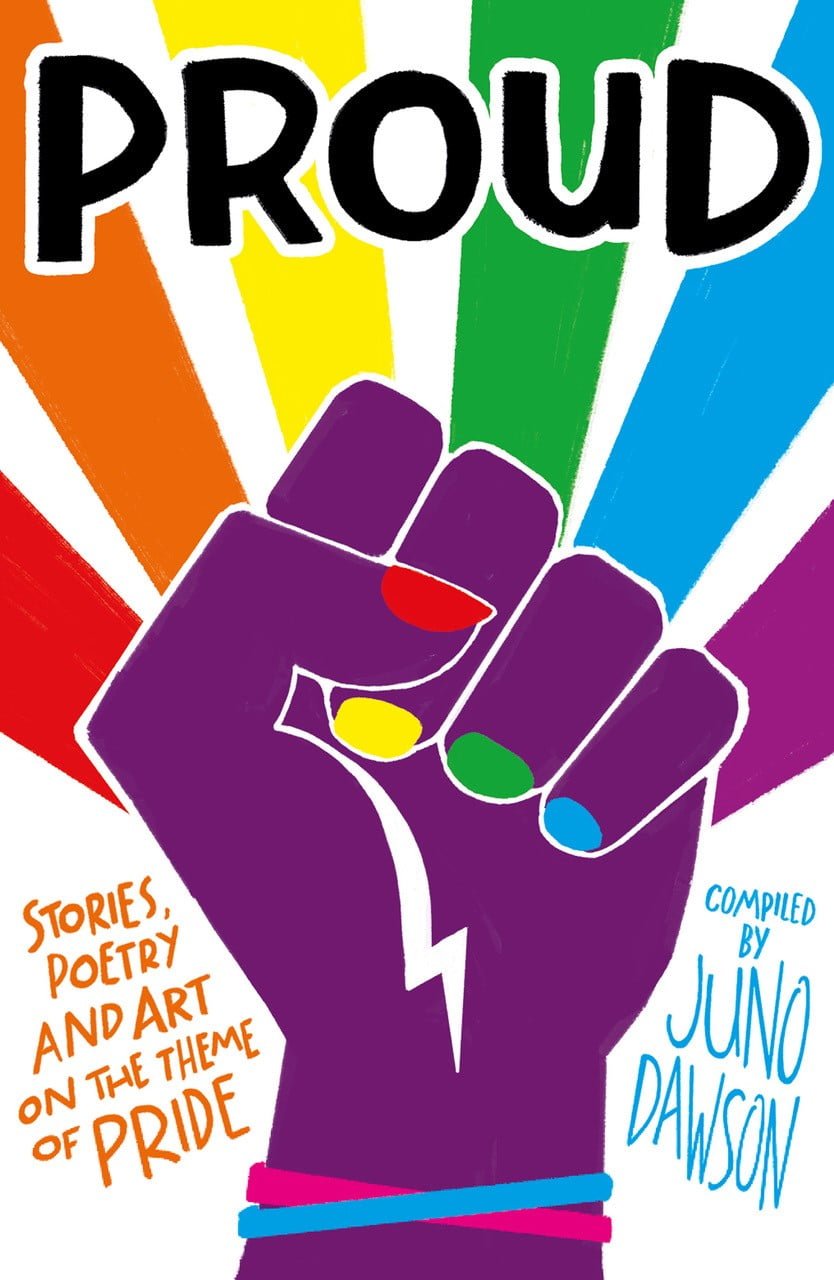 Can you tell us a little more about how the book came about and the process involved in its creation?
The Stripes team were looking at the next venture after our previous anthology, A Change Is Gonna Come, which championed BAME writers. As we were discussing the possibility of an LGBTQ+ version, Juno Dawson got in touch and raised her own interest in creating an anthology that would particularly highlight UKYA talent. We compiled a list of potential authors to approach and along with Juno we came up with our eight established authors and four new voices. Once we had our authors in place, our artistic director, Paul Coomey, reached out to artists to involve them in the project, and assigned them each a story to illustrate. We also invited aspiring LBGTQ+ editors to apply to shadow the book's editor; as a result, Lucinda Tomlinson worked closely with acting Editorial Director, Rachel Boden, throughout the editorial process.
On announcing the project and selecting our new voices, Juno Dawson said:
"When Stripes asked me to curate this collection, I instantly started to put together my squad-goals dream-team of talented, eclectic writers. What was even more amazing was that they said YES so enthusiastically! I think we all share a common theme in our childhoods: we didn't see many characters AT ALL who were like us. Now we get to fix that and unearth some new voices too. What a time to be alive! I was blown away by how diverse and imaginative all the open submissions were and selecting only four was nearly impossible. I'm so proud of PROUD and can't want for readers to get their hands on this unique collection."
PROUD continues Stripes' commitment to giving a voice to marginalised experiences, addressing the need for more LGBTQ+ representation in UK publishing.
Why did you decide to present the book as an anthology and collection of work from different authors and poets? How important was it to include new authors and voices in the collection?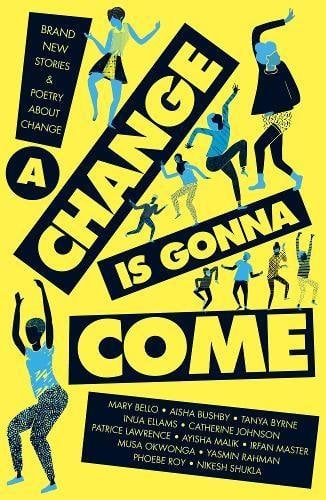 We saw the positive effect that A Change Is Gonna Come had had at showcasing a variety of voices underrepresented in the UK market. An anthology allows these voices to be heard and discovered in a way which an individual project might not. In A Change Is Gonna Come, our four new writers went on to have their own book deals and be signed by agents. We wanted to continue this good work by once again running an open submissions element to the book. This allows debut authors to shine alongside established authors. It's a fundamental part of the project, and one of the main reasons our established authors were excited to sign on to the task.
Karen Lawler, Michael Lee Richardson, Cynthia So and Kay Staples responded to the open call, and their stories were selected from amongst a hundred entries for the strength of their creative voices and the individuality of their work. Each brought something fresh and exciting to the collection.
The winning stories each interpreted the theme of pride in their own individual and compelling voice. They were chosen by editorial consultants including author, activist and PROUD compiling editor, Juno Dawson, Uli Lenart of independent bookshop Gay's The Word, alongside Stripes staff and editorial mentee, Lucinda.
Uli Lenart commented:
"It was a real privilege to read such a various and richly talented selection of new work. YA is an incredibly innovative realm in publishing and we are really waking up to the boundlessness of that. Reading these submissions, I'm assured that the future of LGBTQ+ publishing looks both bright and deliciously surprising. It's wonderful to see publishers like Stripes nurturing emerging voices because implicit in that is the message that no matter how different we might feel, everyone has a voice, and that our uniqueness is a gift and a strength. That's a powerful idea."
Editorial Director Rachel Boden said:
"We were thrilled with the response to our call for stories. The quality of writing was impressively high. These four stories explore experiences that are unique, but will still resonate with every reader."
There's some beautiful artwork and illustrations throughout the collection, by twelve different artists. How important is the artwork in this collection? What does it add to the stories and words?
Each of the individual illustrators bring something unique to the collection, as they capture the stories in their own styles and bring the narratives to life. The artists each have their own areas of interest and mediums, the only constraint they had was to create art that could be shared in black and white. Artists include Alex Bertie, Kate Alizadeh, Alice Oseman, Saffa Khan, Fatti Burke, Priyanka Meenakshi, Kameron White, David Roberts, Steve Antony, Leo Greenfield, Frank Duffy and Kristen Van Dam.
From the graphic novel art of Alice's penguins scene in response to Simon James Green's story, to the powerful protest art of Fatti Burke in response to Moïra Fowley-Doyle's Love Poems To The City, and the contemporary pop of art by Kameron White in response to Karen Lawler's I Hate Darcy Pemberley, each allows for another queer perspective that brings the whole collection to a louder and prouder place.
I loved As the Philadelphia Queer Youth Choir Sings Katy Perry's 'Firework' by David Levithan – the various voices telling their stories and the poems celebration of music. How important do you think music is as a tool for unifying the LGBT+ community?
I think music is hugely important. Before I was aware of books with LGBT+ protagonists or authors, I was aware of Freddie Mercury, George Michael, Lady Gaga, and more. Music is at the core of Tanya Byrne's story Almost Certain, which is set in a record shop, and the collection of voices in David Levithan's story speaks to the power of community and coming together as queer people with many voices to sing out in spirit of raising a voice together as one community. It's supportive, emotional, cathartic, protesting, and full of love. Keep an eye out for a post from Kay Staples later on the blog tour for how music has helped her in her writing.
The collection ends with a moving, rousing poem called How to come out as gay by Dean Atta, with artwork by Leo Greenfield. I wondered if you could talk a little bit more about this poem, how you felt when you first read it and why it was chosen to close the anthology?
Dean's poem is the perfect conclusion to the anthology. When I first read it, I felt in no uncertain terms that it was a poem which speaks directly from the heart to our hearts. It helped me feel seen, though I'm not a gay, black teen coming out to his father, it still rings true in that search for a mirror and acceptance, as well as the hesitancy and tiptoeing out of the closet or the unashamed unveiling. It speaks to each of us individually to say that our way of existing is the right way, that there's no wrong way and that together we'll be okay. I can't wait to see Dean perform this live at his events.
I personally have always struggled when reading anthologies – I find it difficult to become immersed in the stories. What does this anthology offer that others don't? How might you convince someone who doesn't read or like anthologies to pick up this collection?
Think of an anthology as a taster platter. You get to pick and choose from a myriad of voices to find the right one for you. You don't have to love or understand every piece, but if there's one in there that rings true, you can seek out more of their work. I think another thing an anthology does is allow you to dip in and out at leisure. Join a reading challenge – assign a story a day and try and read them as individual pieces of work, rather than in one sitting. Or storm through the whole book as one, then go back and reread. An anthology is a starting point, it can open up a whole new way of reading.
In the Foreword, Juno Dawson talks movingly and candidly about the bullying she endured at school. What can teachers do in their classrooms to tackle discrimination based on gender and sexuality?
Follow the work of organisations such as Diversity Role Models, Stonewall, No Outsiders, School's Out. These charities have been working for years to combat bullying in classrooms. Read work like Shaun Dellenty's  Celebrating Difference- A Whole School Approach to LGBT+ Inclusion.
Small practical things you can do include displaying a poster for an LGBTQ+ inclusive title in your classroom. Brush up on guidelines on the Stonewall website on appropriate and up to date terminology. Call out instances of bullying in the classroom if you witness them, and put a stop to it verbally, to show the children in your class are cared for and backed up. But also and beyond this, be inclusive. When providing examples in class, ask yourself if they're thoughtful of lives outside the straight, cis norm. Particularly in classrooms, be aware that not all families may look like you assume they will, and that you never know to whom this might apply. A child might have queer parents, siblings, or themselves be queer. There's no excuse not to consider that this might be the case and moderate your assumptions accordingly.
How do you envisage teachers using this book in their classrooms? Do any activities spring to mind?
I've thought a lot about ways to get PROUD into classrooms where it will be most visible to the teens who need it. We've created eye-catching display packs including posters featuring the cover art and the internal artwork, bunting in rainbow stripes, a sneak peek at the individual stories and poems in a small flier and bookmarks to take away, with a quote from Juno's foreword. In terms of activities, we've created a free downloadable teaching guide by Beth Kemp, with suggestions of how to incorporate the anthology into the curriculum, as well as less formal reading notes for book clubs and LGBTQ+ groups to use as discussion prompts. Both are available to download here!
Are there any other books that teachers could use in their classrooms that champion diversity and the LGBT+ community?
Juno's non-fiction title This Book Is Gay is a bestseller at Gay's The Word, with parents, teens and friends purchasing copies for a funny and relatable quick guide to all things coming out, inclusive sex ed, and terminology explained, with funny and emotional case studies.
Trans Teen Survival Guide is an excellent antidote to the on going media attacks against trans people who just wish to go about their lives, speaking directly to the kids themselves to give much needed advice and support.
Finally eight of the authors included in PROUD are also previously published, so seek out their backlist and future titles to stock for an entire library of pride. Supporting the LGBT+ community doesn't have to mean reading about LGBT+ narratives, there's lots more to be explored and created. Check out Simon James Green's Noah series, Tanya Byrne's incredible young adult books for excellent voice. Moïra Fowley-Doyles' bewitching bisexual characters. Alice Oseman's graphic novel Heartstopper.
This slideshow requires JavaScript.
People often talk about reading for pleasure, but as a young gay man I often remember trying to seek out books that reflected and mirrored my own experiences. What might we call this? Reading for empowerment possibly? Do you consider reading to be a political act as well as a pleasurable act?
Reading for recognition, empowerment, to feel seen, to feel believed. I think reading is an incredibly personal act, but yes it can be political. Seeking out material which reflects who you are and affirms your existence is incredibly powerful, especially when faced with a media narrative that seemingly seeks to tear you down. I recently attended the Gay's The Word 40th anniversary event at the British Library, and listening to a room full of readers, authors and LGBTQ+ people talk about how that shop, a bricks and mortar room, was a life changing epicentre for found family and community made me cry more than once. When they introduced Earnest Hole, the bookshop founder, he received a standing ovation. That's powerful.
What Juno's anthology has done is given a bit of power back to today's teens, to help them feel seen, to show we're proud of them.
I was saddened to read that there has been 'a spate of attempts around the world to remove titles depicting gay or transgender characters from library shelves' (The Guardian, January 2019). Why do you think books for children and young adults that explore the lives of gay and transgender characters are still so important?
I think they'll always be important, simply for the fact that everyone deserves to see themselves represented. Think about it this way – no one is asking straight people why a book featuring their lives is important. Yet, as queer people, our mere existence in a narrative becomes something to be debated over. Until there are enough books being regularly published that it no longer makes a single title feel like an anomaly, we're doing a disservice to young people whose lives belong in stories just as much as anyone else.
This book is not just for the LGBT+ community. Do you agree with this statement? Why? Why not?
Absolutely, PROUD is an anthology anyone can pick up and read. Books offer windows into lives we don't ourselves live, and give us the opportunity to practice empathy. I think it's vitally important that straight, cis readers pick up books like PROUD to help understand the many perspectives of society.
What do you hope readers will take from PROUD?
The overall feeling is one of celebration, aimed to increase visibility and sociopolitical agency for LGBTQ+ teen readers, and to share their stories with the supportive YA community at large. PROUD is a thought-provoking, funny, and emotional read that uplifts and empowers LGBTQ+ youth and opens the hearts and minds of young allies.
Finally, can you describe PROUD in three words?
Joyful, empowering, unapologetic.