Without giving too much away, can you tell us a bit about your new book Our Castle by the Sea?
Our Castle by the Sea is set at the very beginning of the Second World War. It is about a twelve-year-old girl called Petra Zimmerman Smith who lives in a lighthouse on the white cliffs of Kent with her unpredictable big sister, her English father and her German mother. When the war begins, and it becomes clear that there is a traitor in the village, the local community turns against Petra and her family, but can her beloved 'Mutti' really be to blame?
The story begins with reference to the legend of the Wyrm and the Stones. Can you tell us a little bit more about this? Why did you choose to start your story with this magical, chilling myth?
I love creating stories within stories, and the magical legend of 'The Wyrm and the Stones' is at the heart of Petra's story as she knows that – somehow – she is destined to become part of this strange, ancient tale. The legend provides a supernatural parallel to the dark forces threatening Britain at this point in history and provides some of the spine-tingling moments of magic realism within the novel. The Wyrm is inspired by Goodwin Sands near Dover – a sandbank that really has wrecked and swallowed up many hundreds of ships over the centuries – and the Daughters of Stone are inspired by real megaliths such as Long Meg and her Daughters in Cumbria, or the Merry Maidens in Cornwall.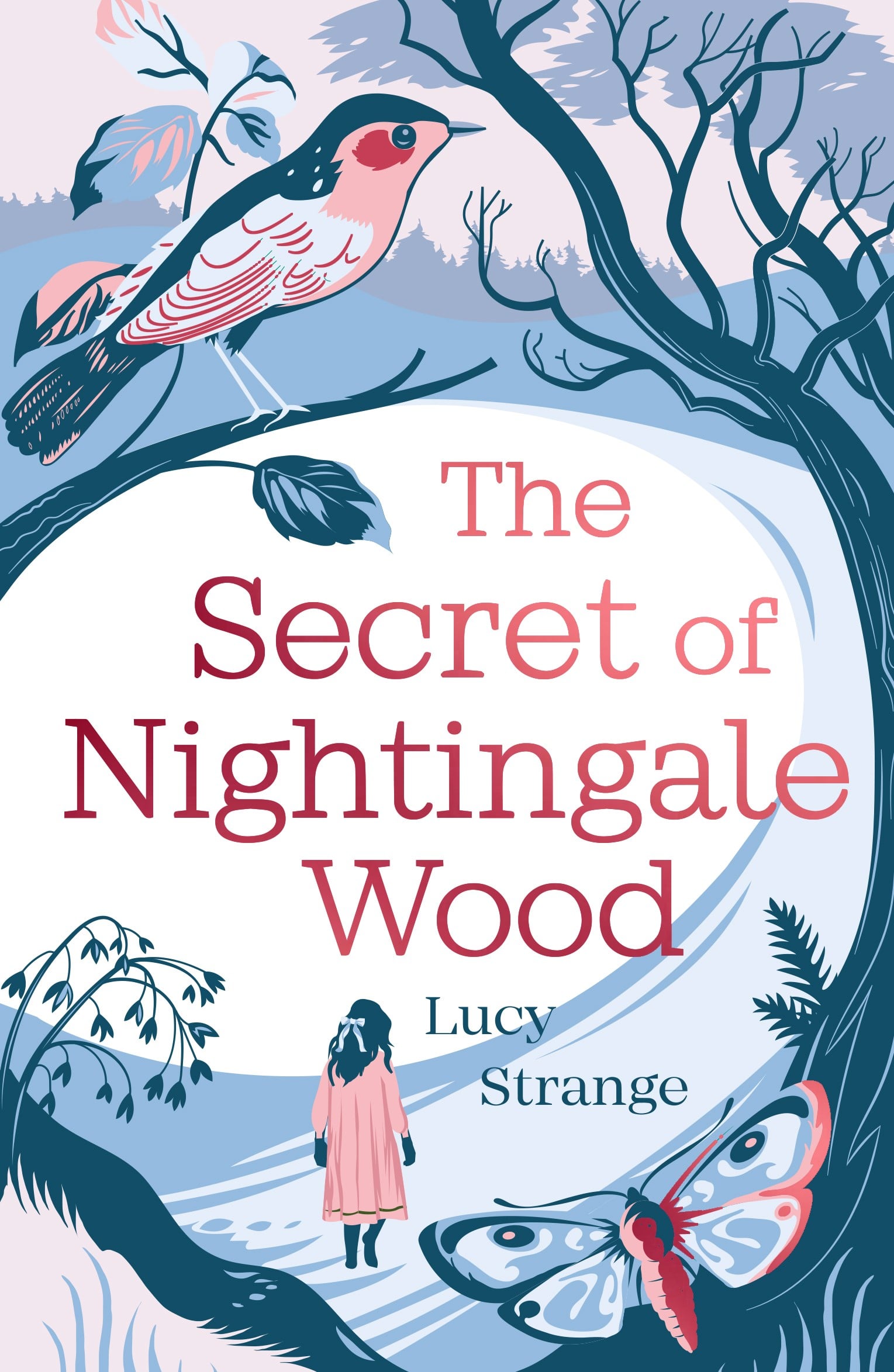 The Secret of Nightingale Wood has been a huge success. How is Our Castle by the Sea similar to The Secret of Nightingale Wood? How is it different?
Both The Secret of Nightingale Wood and Our Castle by the Sea are written in the first person (I find this is the narrative style that comes most naturally) with young female protagonists. Both are historical novels exploring, in part, the effect of war on individual people and families. But they are completely separate books and very different in terms of story, setting, characters and atmosphere. Nightingale Wood is concerned with aftermath – how to find a way back to hope and light after everything has crumbled to dust, whereas Our Castle is very much an adventure set in the midst of the turmoil. Both stories feature dark secrets and mysteries to be solved . . .
Having had such a successful debut book, what were your feelings about writing another book? Has publishing your first book changed your writing process?
As soon as the main editing of one book is finished I start to get excited about the next book (I've got about three books in my head at the moment, fizzing around like frustrated fireworks – it's very distracting . . . ) Because Nightingale Wood was so well-received by readers, I suppose I was aware when I was writing Our Castle that people were likely to compare the two, so I wanted it to be a worthy follow-up, but of course I wanted it to be a good book anyway – and special too, in its own unique way. The hardest thing about Nightingale Wood was the editing process – we cut 46,000 words in total. I didn't want to go through this again with Our Castle, so I tried to keep things tighter and more focused as I worked my way through. It was definitely a different writing process!
What does a day in the life of Lucy Strange look like when you're writing?
A typical writing day used to start as soon as I was awake – all cosy in my pyjamas with a steaming cup of Earl Grey tea at my side. But since I became a mum my days are rather different . . . The writing often has to happen around the edges of the day and when the baby is napping. It isn't easy, but the outline for Book 3 is slowly taking shape!
Do you have a favourite part of the writing process? Do you have a least favourite part?
I love the ideas bit at the beginning of writing a book, when the layers of narrative are starting to fit together and the characters are coming to life. The first draft can be really exhilarating to write. The editing process is, in all honesty, a bit more gruelling, although sometimes I really enjoy the challenge of slotting in new scenes or making big changes, and it is hugely rewarding to see the story take its final shape.
What did you edit out of this book? Why?
The main thing that was edited out of Our Castle was a character. In the first draft, Petra had a rather heroic big brother called Jules, and my editor (Rachel Leyshon at Chicken House) felt he made everything feel too safe, as Pet was always protected by him. She was absolutely right of course. And cutting his character allowed Pet's sister Mags to develop into the bold and brilliant character she is now. I still miss Jules though!
What are your earliest memories of reading and writing?
As a tot, I loved stories so much that I would learn my favourite ones off by heart and recite them as I turned the pages – to give the illusion that I could read! I enjoyed writing too and would create my own newspapers for my family or toys. Later on I loved writing stories and poetry. I have always had a feeling for the sounds of language and its natural rhythms, and I think this is partly to do with having listened to so many audiobooks when I was small. Language for me has never just been something printed on a page. I also think it's vital that children don't consider reading and writing to be 'work' or 'things they do at school': both reading and writing should be forms of 'play' – opportunities for imagination, creativity and fun.
Did you have a favourite story when you were younger?
I loved reading all sorts of things when I was small – Enid Blyton adventures, Roald Dahl, and children's classics such as Alice in Wonderland, The Wind in the Willows and The Jungle Book. As I got older I developed a taste for detective stories, and I still love Agatha Christie's brilliant mysteries to this day. I have a theory that all really good plots – regardless of genre – contain elements of the classic murder mystery: hidden clues, red herrings, twists and revelations.
As a teacher, I'm always interested in an author's point of view about inspiring a love of reading and writing in our children. I know also that you have worked as a storyteller and secondary school teacher, so know you will be able to give some great advice!
What advice would you give to teachers about how to develop reading for pleasure in their classrooms and schools?
I think the main thing both teachers and parents can do to foster a love of reading in children, is to be reading role models. Genuine enthusiasm is infectious: show children that reading is something you choose to do with your valuable time. If you can give small children magical experiences with stories, they will always see books as something wonderful. Reading together is important too – not as a chore to trudge through their obligatory pages of reading homework – but as a special time to share, enjoy and discuss a story together. For teachers, I think it is partly about valuing books in the classroom, reading aloud to classes and making reading time a priority. Again, I think the combination of enthusiasm and the communal element are very important here – so youngsters experience the drama and excitement of sharing a gripping tale with friends.
How would you envisage teachers using your book in their classrooms? Do any activities or ideas spring to mind?
Our Castle by the Sea works as a class reader – just to enjoy the story, or it works brilliantly for a class studying the Second World War as a topic as there are so many opportunities to investigate real historical events. It could also be used as a literary study to explore language techniques and inspire students' own creative writing. I've filmed some author masterclasses for the awesome teachers' resource site Authorfy and they've also got a scheme of work teachers can download.
Children are always fascinated by authors and seem to always want to know where they get their ideas from. So, on behalf of all the children I've ever taught, where do you get your ideas and inspiration from?!
I get my inspiration from lots of different places. I often begin with a work of art – a book, a painting or a piece of music – these can be wonderful starting points to inspire ideas. The Secret of Nightingale Wood began with a short story called The Yellow Wallpaper by Charlotte Perkins Gilman, and Our Castle by the Sea started with this beautiful painting of the lantern room in the Belle Tout lighthouse, by Eric Ravilious…
What advice would you give to any budding young authors?
I always tell budding young writers that inspiration can come from all sorts of places… Daydream. Listen to conversations on buses, and gaze out of the window on trains. Notice things that other people miss, and always keep a notebook handy. Read lots of good books – and some bad books too so that you learn the difference! Be brave with your writing – make bold language choices. Make sure everything you write feels honest. Never forget your reader: your reader is the most important person in the world.
Apart from your own book, is there another book or author you would recommend to children that you've enjoyed recently?
I'm currently reading Hilary McKay's The Skylarks' War which is the most beautifully written family story, set at the beginning of the Twentieth Century, encompassing the First World War. The characters are so very real that you will love them and miss them and they will break your heart.
Finally, can you describe your new book Our Castle by the Sea in three words?
Our Castle by the Sea is about:
Loyalty, a legend, and a lighthouse.
Thank you, Lucy for taking the time to answer these questions with some detail, passion and enthusiasm!